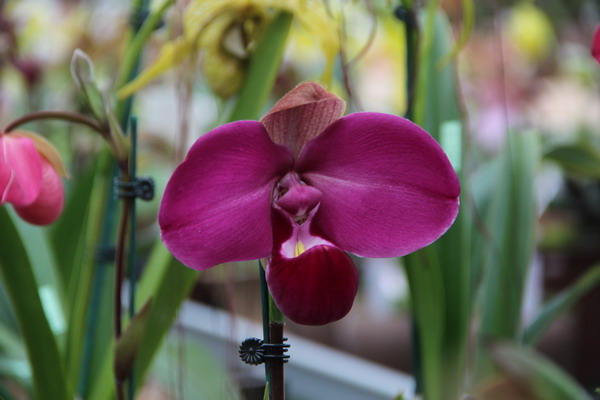 Phragmipedium kovachii, a species discovered in 2002 in Peru, highlights the orchid show.Provided to CHINA DAILY 
Shanghai Chenshan Botanical Garden is blooming during the city's second International Orchid Show.
The exhibition displays more than 1,000 orchid species, including some of the rarest.
It features a prize-winning orchid from a Shanghai contest this year, contributed by Ecuador's Ecuagenera Cia Ltda. The plant, Phragmipedium kovachii, which explodes into a single large blossom, belongs to a species discovered in 2002 in Peru.
"I cultivated it from a small seed, and it took us some three years from seeding to the blossom now," the flower's cultivator Jose Portilla says.
Portilla says various orchids have been introduced into China in recent years, and preferences are rapidly changing.
He also presents tropical orchids from Ecuargenera, a scenic spot famous for the flowers. Ecuagenera's origin dates back to the 1950s, when Salesian father Angel Andreetta arrived in Bomboiza in the Amazonian province Morona Santiago, a place rich in gold and orchids. Andreetta began the process of research, selection and collection of some species and has become a pioneer in the country.
"In the stand, we represent people's lifestyles in the Amazon region among many lakes that host a large number of animals. The cascades located at the border of the Andes mountains chain that fall into the Amazon nurture vegetation in the area," Portilla says.
 IF YOU GO

 Shanghai Chenshan Botanical Garden.
 3888 Chenhua Gonglu, Songjiang district, Shanghai.
 8 am-5:30 pm, until April 20.
 Admission: 60 yuan.
 For more details please browse www.csnbgsh.cn or call 021-3779-2288.