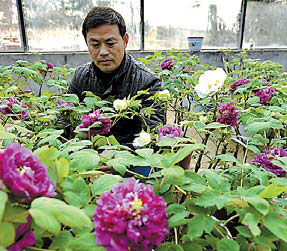 After years of research, Zhao Xinyong can now make flowers bloom on any day of the year.
The peony normally blooms only in spring. But thanks to Zhao Xinyong, millions of flower fanciers are now heading to Heze, one of China's major peony cultivation zones. They enjoy the noble flower in full blossom all year-round, be it the cold, snowy winter or scorching summer.
"As long as I know one and a half months in advance, I can bring the flowers into full bloom on any day you want," said the 41-year-old senior horticulturist.
Zhao knows no magic, but he has done years of experiments with a range of advanced gardening technologies.
Zhao's hometown, Zhaolou village of Heze, has a history of cultivating peonies stretching back almost 1,000 years. The city's 30,000 hectares of peonies make it the country largest center for cultivation of the flower, producing 56 percent of the nation's total, according to the municipal government.
With its luxuriant and fragrant blossoms, the peony has been favored since the Sui and Tang dynasties (581-907). It is regarded as a symbol of nobility and wealth. Even today, it is esteemed as China's unofficial national flower and "queen of all flowers".
"Every year, several million tourists travel to the city from all over the world just to get a glimpse of the vast expanse of the blooming peony flowers," said Zhao, who has worked for nearly 20 years at the Caozhou Peony Garden, the city's largest.
"But 10 years ago, visitors could only feast their eyes on the beauty a dozen days a year, because peonies naturally bloom in April or May, with a flowering period of about 10 days," Zhao said.
"Some people came all the way to the garden to see the flowers, but failed because they didn't come in the right season." he said.
As early as the Qing Dynasty (1644-1911), some peony growers in Heze brought their peonies to southern China every winter and tried to make them bloom during the Spring Festival by taking advantage of the comparatively mild climate.
Zhao's family followed the tradition. When Zhao was in his teens, his father - also a veteran peony grower - took him to Guangzhou every year to make a profit from the city's Lunar New Year celebrations.
"Our peonies were well-received. A peony plant with one or two blossoms could be sold at 50 yuan ($8.24) at that time," he recalled. "But without professional technologies and facilities, usually only half of the peonies we took bloomed on time even if the weather favored us."
The experience inspired Zhao. He began to research how to change the flower's time-honored cycle.
"The key is to control the temperature, humidity and light. Chemical methods such as spraying fertilizers on the flower buds and leaves have also been used," Zhao told us.
It usually takes a peony plant 45 days to bloom from the bud. So the formula is to keep the plants in cold storage, pick them out when needed and give them what they need to bloom.
"The most difficult task is to make the peony bloom in summer because it tends to wither quickly in hot weather. We have to not only provide them plenty of sunlight but also make the temperature fall from perhaps 40 C to about 15 C," said Zhao, adding that it was not until 2004 that he finally got the hang of the technology.
To better cultivate the flowers, the Caozhou Garden spent 2 million yuan building a 450-sqaure-meter greenhouse in 2010, which provides a great support to Zhao's research.
The greenhouse is home to more than 1,700 flowerpots with 30 peony varieties blooming year-round under the watchful eyes of Zhao and his fellow researchers.
"Some varieties, such as black and green peonies, are hard to get to bloom in natural conditions, but they can in our greenhouse," Zhao said, with a pride.
Zhao is working on cultivating new flower types by crossbreeding with rare foreign varieties.
"It takes a peony plant four or five years to mature, so you need great patience to do the job. But I know it's worth it when seeing the smiles on tourists' faces," said Zhao.
At the China Peony Expo held last year in Heze, his peonies won six of the 13 gold prizes.
Heze now has more than 200 greenhouses producing 3 million ever-blooming peonies annually, said the municipal forestry bureau.