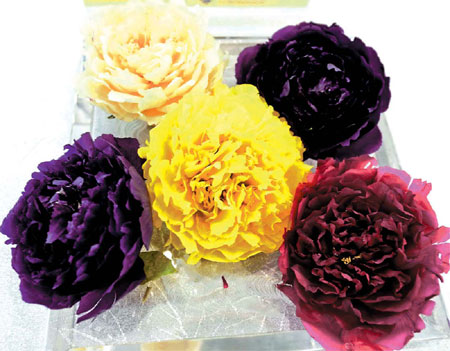 Famed flower is now used to make top-quality cooking oil, cosmetics and herbal medicine, Zhao Ruixue reports from Heze, Shandong.
Seven months ago Li Hao closed his lucrative business in Beijing and returned to his hometown of Heze in Shandong province to run a new company that makes products known to very few people.
Now in his 40s, Li has turned from oil drilling technologies to the peony business.
"I didn't know that a flower can be made into so many varieties of unique products before they (local officials) came to me," says Li. "Nine out of 10 of my friends are as ignorant about peony-related products as I was."
Li organized a peony group using the social media QQ that now has some 200 members, most of them white-collar workers. He usually consults them when he wants to know if a product has market potential.
"The oil distilled from peony seeds could be a revolution in high-end cooking oil across the world," says Li. That prospect was why he took the job as general manager of Heze Yao and Shun Peony Biotechnology Co, which was founded in 2011 at the urging of the local government.
After two years, the company has developed seven products from the peony flower and plant.
"Every single part of the peony is a treasure," says Li.
Peony seeds are used to make cooking oil, and petal extracts are used in cosmetics, perfume and essential oil. Pistils are made into a tea and the root is considered a good Chinese herbal medicine.
The products impressed Chinese President Xi Jinping, who paid a visit to the company's exhibition hall during his tour to Shandong in November.
President Xi said his knowledge about the peony was enriched after spending around 40 minutes viewing the products showcased in the exhibition hall, recalls Zhang Guibin, who introduced the peony products to him.
"President Xi was particularly fascinated by peony seed oil," says Zhang.
As the deputy director of the city's district of Mudan - which actually means peony - Zhang is regarded as an expert on the flower.
"Peony seed oil contains a lot of alpha-linolenic acid, which is very helpful to brain cells and can significantly reduce both anxiety and stress," says Zhang. It belongs to the same family as omega-3 fatty acid extracted from fish oil.