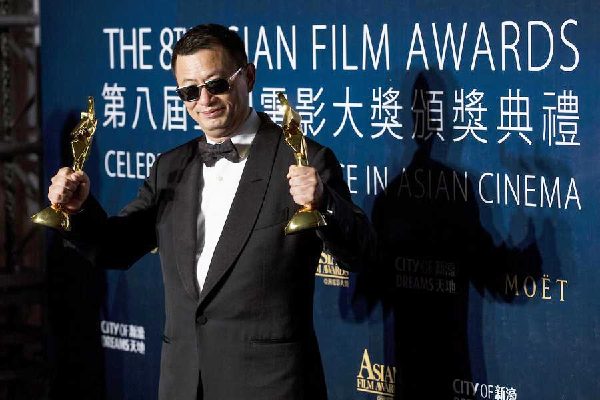 Hong Kong director Wong Kar-Wai poses after winning the Best Director and Best Film for "The Grandmaster" at the 8th Asian Film Awards in Macao March 27, 2014. [Photo/Agencies]
The Asian Film Awards lit up Macao on Thursday, March 27 and martial-arts epic "The Grandmaster" dominated the night with seven wins, including Best Movie.
Inspired by the life of Yip Man, the plot spans several decades of Chinese history and was in production for more than six years.
The hard work paid off, earning Zhang Ziyi the Best Actress gong for her performance and Wong Kar-wai the Best Director award.
Despite the triumphs, Wong had a somber message in his acceptance speech.
The veteran director mourned the loss of one of the film's martial-arts directors on the missing Malaysia Airlines flight MH370.
Wong urged for Malaysia to provide more transparent information regarding the ongoing search.
Ju Kun, 31, was on his way to visit family in Beijing. He had been a stunt double for action star Jet Li for many years, according to Baidu.com.
Elsewhere, Indian film "The Lunchbox" picked up the Best Actor award for Irrfan Khan.
Khan plays the lead in the romance about two strangers in Mumbai whose paths cross because of mixed up lunch deliveries.
The Asian Film Awards are organized by the Hong Kong International Film Festival, and featured 26 films from 13 countries and regions in competition.