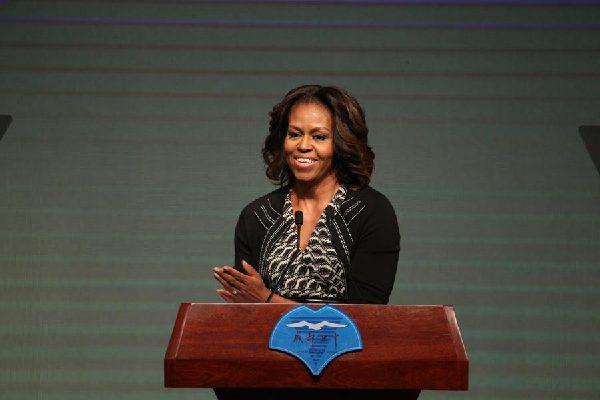 US first lady Michelle Obama speaks at Chengdu No 7 High School in Chengdu, Sichuan province on March 25, 2014. Wang Jing / For China Daily
Obama shares story of her upbringing, tells students in Chengdu: 'I grew up like you'
US first lady Michelle Obama impressed Chinese high school students on Tuesday with bittersweet stories from her school days, underscoring the importance of eliminating "misconceptions and stereotypes".
"It's easy to focus on our differences-how we speak different languages, eat different foods and observe different traditions," she said in a speech while visiting No 7 High School in Chengdu, Sichuan province.
In her first speech at a Chinese high school since her flight landed in Beijing on March 20, the first lady mentioned an experience she had before coming to China-a visit to Yu Ying School, a public school near the White House where all the students study Chinese and have visited the country.
The students there told her that before their China tour they had all kinds of misconceptions. "They thought they would see palaces and temples everywhere they went ... but instead they found massive cities filled with skyscrapers," Obama told the Chengdu group.
"I'm always struck by how much more we have in common. And that's been particularly true during my visit here in China. You see, the truth is that I grew up like many of you."
Related:US first lady visits China