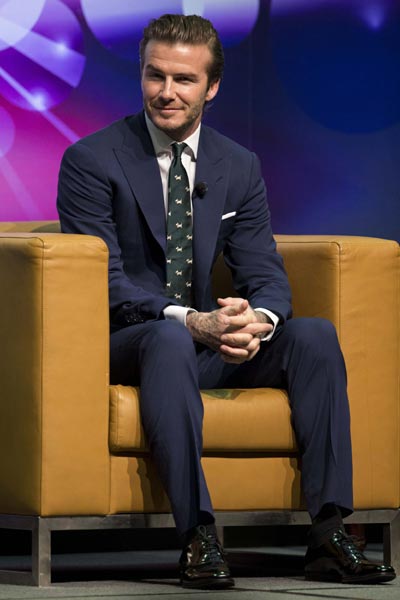 Former England soccer team captain David Beckham says he is more a businessman now. [Photo/Agencies]
RIO DE JANEIRO -- David Beckham has taken part in a two-week expedition through Brazil's Amazon rainforest for a television documentary.
The former England captain was accompanied b
y three friends and a film-maker for the program, which will be broadcast by the BBC in June, ahead of the World Cup in Brazil.
According to Brazilian news service Terra, the 90-minute documentary "aims to show the natural beauty of Brazil". Beckham is joined by friends Dave Gardner and Derek White, who together are filmed fishing, cooking and camping in the remote jungle region.
"Through his eyes, audiences will experience life in the jungle, something so distant from David's life on and off the pitch and in the glare of the world's media," Helen Jackson, managing director for content at BBC Worldwide, was quoted as saying.
Beckham's Amazon adventure followed the 38-year-old's promotional visit to Rio de Janeiro earlier this month for the city's annual Carnival celebrations.