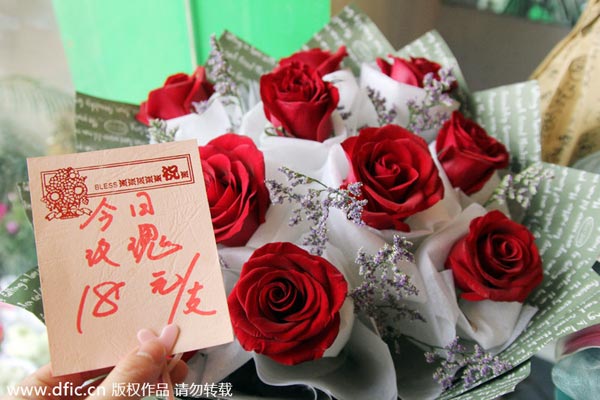 A single red rose priced at 18 yuan in Shanghai on February 8, 2014.[Photo/icpress]
Men are expected to give their beloved ones roses on Valentine's Day which always leads to price hikes for the flowers every year on this special day. However, rose prices have already surged much more than previous years due to a reduction in output and transportation affected by rain and snow.
In cities such as Beijing, Changsha, Shenyang and Xiamen, a single red rose now costs anywhere from 12 to 20 yuan, an increase between 50 to 200 percent year on year.
A bouquet of 11 roses now goes for 270 yuan, the same of one gram of gold.
An insider from Shenyang said the price of a giant bouquet of 999 roses is expected to reach 20,000 yuan on Valentine's Day this year.
According to flower shop owners, rose prices have been affected by the snow in Yunnan province, the main provider of flowers on the Chinese mainland. Large quantities of flowers in the province have been frozen by recent snow, reducing the output to only one-third from previous years.