Local producers performing well but can't afford to rest on laurels
Large audience numbers at cinemas in both large and small cities show moviegoing is a popular pastime for people in China, now the world's second-largest film market.
Box office revenue hit 21.77 billion yuan ($3.6 billion) in 2013, up 27.51 percent year-on-year, according to statistics from the State Administration of Press, Publication, Radio, Film and Television, the government watchdog for the film and TV series industry.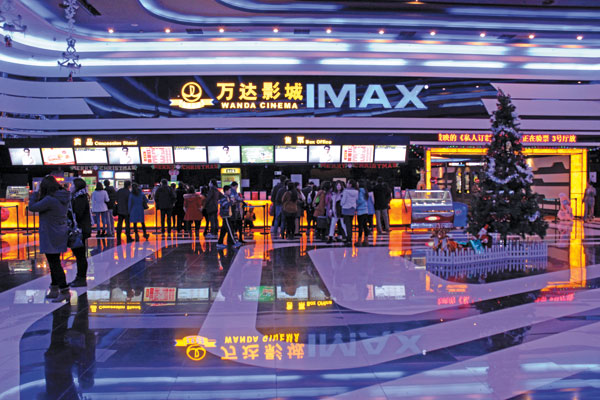 A Wanda Cinema in Dalian shows new movies to greet Spring Festival. Wanda Cinema Line earned 3.16 billion yuan last year. China's largest movie theater chain by box office revenue, the company has been approved by regulators and is currently in line for an IPO. Provided to China Daily
But the rosy figures cannot cover some potential problems that come with the development of the country's movie industry.
The continued expansion of movie theaters serves as a major engine for ticket sales growth alongside increased moviegoing by the general public.
An additional 5,077 screens were added in China last year, pushing the total to 18,195 at the end of 2013, according to the state administration.
The number of moviegoers grew by 32 percent, from 462 million in 2012 to 612 million in 2013, according to EntGroup Consulting, a Beijing-based entertainment industry consulting firm
"The constant increase of screens was the primary driving force of box office receipts last year, but the driving factors will become more diversified in the future, including better-quality movie productions, and more professional marketing strategies and promotional methods," said Yang Shuting, a senior analyst with EntGroup Consulting.
The top three private film companies took almost half of the domestic film market share last year, according to statistics from the StateOffice of Government Fund of National Film Development.