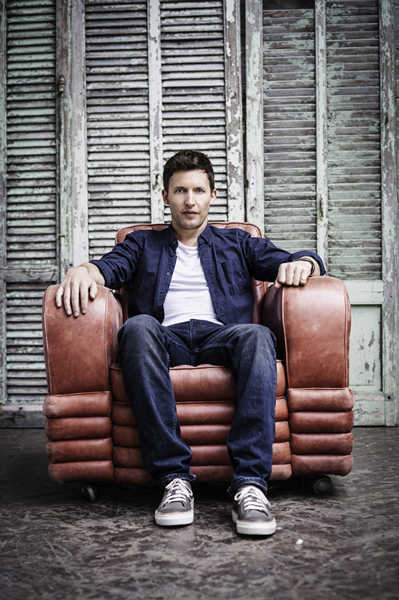 James Blunt, who has toured China twice, brings romantic and old-school styles with his coming performance. Photo provided to China Daily
It has taken Blunt about a year to make Moon Landing.
"It's kind of a hard process to try and not think of an audience, not to second guess but instead sing a song as it comes from the heart," he says.
"I wanted to just get back and express myself and find where I was at really. It would have been a different journey, and this is an album really I would have recorded so yeah, if someone says my songs seem to be full of emotions, that's the greatest compliment I could ever receive."
The promoter of his Hong Kong gig, Midas Promotions, says of Blunt's music: "His repertoire is a mix of acoustic-tinged pop, rock and folk."
The 39-year-old was born into a military family and served in the army for six years, in Canada, Kosovo and then London. He brought along his guitar during his Kosovo assignment in 1999, strapping it to the outside of his tank, and occasionally performing at get-togethers of peacekeepers and locals.
Blunt's band lineup is: Paul Beard on keyboards, Ben Castle on guitar, Malcolm Moore and John Garrison on bass, and Karl Brazil on drums.
His Chinese mainland promoter, Live Planet Group, says they have great confidence in Blunt's performances in China.
"His music style is popular with Chinese fans. He has continuously presented good work in the past, too," Live Planet's Shanghai operation director Guo Feng says.
"We have worked with James since his debut show in Shanghai in 2008. We believe he will grow even more popular in China. The year 2013 witnessed an unprecedented number of Western acts in Shanghai, with a major star touring every month. Now it seems most of the shows had quite good box office."
Live Planet has kept a close eye on the tour planning of international performers, seeking opportunities to bring more acts to Shanghai in 2014.
"As fewer Chinese pop stars are showing further potential for the live performance market, I believe more pop stars from Europe and America will come to the huge market of the Chinese mainland," Guo says.
If You Go
8 pm, Jan 2, Mercedes-Benz Arena, 1200 Expo Avenue, Pudong New Area, Shanghai;
8 pm, Jan 4, Master Card Center, 69, Fuxing Road, Haidian District, Beijing;
8 pm, Jan 5, Chengdu Sichuan Gymnasium, 8, Block 4, Renmin South Road, Chengdu, Sichuan province;
Jan 7, Shenzhen Gymnasium, Sungang West Road, Futian District, Shenzhen, Guangdong Province;
280-880 yuan, 400-610-3721 8 pm, Jan 12, 2014, Asia World Arena, Hall 1, AsiaWorld Expo, Hong Kong, 852- 3606-8888