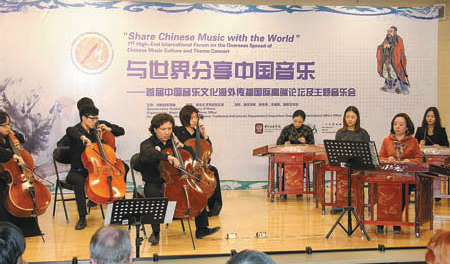 Western and Chinese instruments share the same stage at the music forum in Beijing. Provided to China Daily
The collaboration between yangqin (Chinese dulcimer) and cello is rare but will probably happen more often after they met recently at the Central Conservatory of Music.
At Share Chinese Music with the World - The First High-End International Forum on the Overseas Spread of Chinese Music Culture, the Jasmine Yangqin Ensemble led by Liu Yuening played a piece titled Lily with the Zhu Yibing Cello Ensemble.
"In recent years, music has been playing a more important role in the promotion of Chinese culture in the world," says Liu, a professor with the Central Conservatory of Music and director of office at the Music Confucius Institute. "We hope that Chinese music will become a bridge across borders, through which the world will know more about Chinese culture."
Organized by the Central Conservatory of Music and Music Confucius Institute, the forum attracted experts and scholars from the United States, Denmark, South Korea and China, as well as foreign and Chinese directors of Confucius Institutes around the world.
Keynote speakers included Guo Shulan, chairwoman of the Music Confucius Institute board, and Joseph S. C. Lam, director of the Confucius Institute at the University of Michigan.
Guo Wenjing, a renowned composer and dean of the composition department of the Central Conservatory of Music, proposed ways of "self-redemption" for Chinese traditional instrumental music.