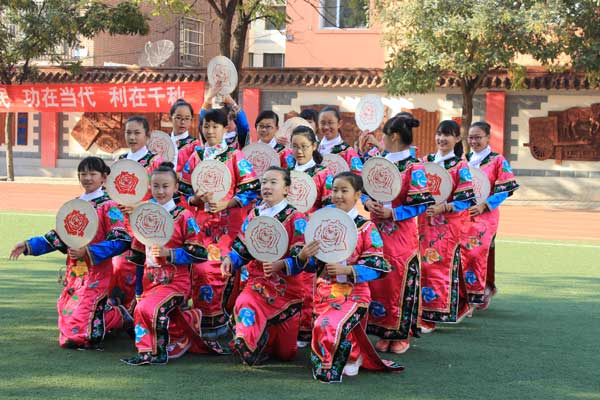 Students at the Manchu Elementary School in Hohhot wear traditional Manchu attire and perform taipinggu, a dance with hand-held drums. Photos by Wang Kaihao / China Daily
A group of ethnic Manchu people in Hohhot is doing all they can to preserve the culture. They share their efforts, hopes and dreams with Wang Kaihao.
Since recently retiring from a construction company in Hohhot, capital of the Inner Mongolia autonomous region, Song Aihe finally has some free time to care for the flowers and vegetables in his modest yard.
When he trims the withering vines this winter, a pole that resembles a streetlamp, gradually becomes apparent in one corner.
"That is our sacred pole," says the 60-year-old, who is from the Manchu ethnic group. "You will probably not find another in Hohhot now, though it was essential for every Manchu family in the past."
The pole represents respect for crows. According to legend, Nurhaci, the 17th century's Manchu leader and the predecessor of emperors in the Qing Dynasty (1644-1911), was once saved by crows as he escaped from advancing enemies.
Song's home is in Xincheng (literally meaning "new town") district, located in the northern part of the city's downtown area.
The "new town" was formed in 1739, when more than 3,000 Manchu soldiers were ordered by the emperor to build a military base. It was commonly called "new town", distinguishing it from the older part of Hohhot in the south, where Mongolians were the majority.