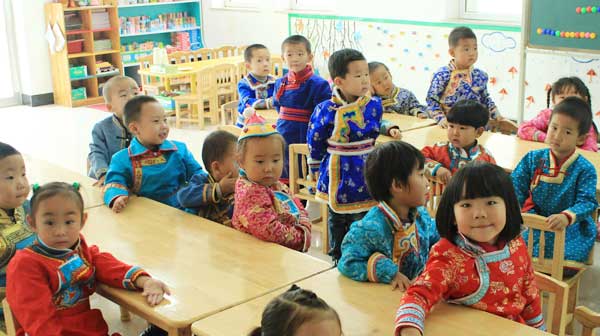 Children attend kindergarten in the ethnic educational park in Urad Rear Banner in the Inner Mongolia autonomous region's western city of Bayannur. Photos by Wang Kaihao / China Daily
Schools in the Inner Mongolia autonomous region are giving students from the Mongolian ethnic group the opportunity to be taught in their mother tongue. Wang Kaihao reports in Bayannur, Inner Mongolia.
On a recent Thursday afternoon in Urad Rear Banner, a county-level administrative district in the Inner Mongolia autonomous region's western city of Bayannur, lively students of the Mongolian ethnic group added bright colors to the barren Yinshan Mountains scene.
Kindergarten children were picking up fallen leaves from the ground for their nature class, while pupils in traditional ethnic clothes were practicing a group dance.
Several senior high school students, meanwhile, were taking a short rest from their studies by walking the pathways.
It is thus hard to tell if this place is a kindergarten, an elementary school or a high school. This Mongolian ethnic educational park is a combination of all.
Twin sisters Jirog and Jirona, both 17, are senior high school students in the educational park. There are only 20-odd students in the spacious classroom, a contrast to the crowded scene common in high schools all over China.
Getting up before 6 am, they wind up an intense day of learning after 10:30 pm, like their peers all over the country who want to shape their destiny via the upcoming national college entrance examination next June. Classes and exams are conducted in the Mongolian language.
"Our parents are sheep herders and don't earn much money," says Jirog, the slightly shy elder sister. Their home on the grassland is a four-hour drive to the banner seat. "But it's great to learn in this good place because we don't have to pay any tuition."
Bayannur is among Inner Mongolia's most agriculturally developed areas, a place where Han people and Mongolians have mixed for generations.