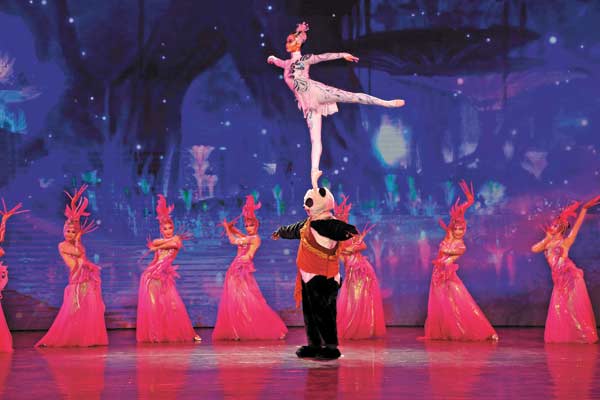 [Photo/China Daily]
The first Chinese theatrical production to take up residency in Las Vegas, the internationally renowned tourist center for gambling, shopping and nightlife, will open next month at the Palazzo Resort Hotel and Casino.
Panda!, which debuted in Beijing in October, will be previewed on Dec 16 and open on Dec 19. With a cast of about 50, the show combines acrobatics and kung fu with music and dance, produced by a team whose credits include the opening and closing ceremonies of the 2008 Beijing Olympics.
Panda! uses some of the same lighting technology and video elements from the ceremonies, according to Zhao Yen, general manager of Panda Global Entertainment.
"We've taken two of China's national treasures, pandas and kung fu, and illuminated them in a visually stunning production that tells an unforgettable and timeless story," says director An Zhao in a statement. "Our team couldn't be happier to bring this experience to the international audiences Las Vegas is known to attract."
Panda! is about the panda Long Long, who goes on a quest to rescue his bride-to-be, Peacock Princess, kidnapped by Demon Vulture on their wedding day. "Confronted by hardship, danger, pain and temptation, Long Long must overcome universal obstacles to defeat Demon Vulture and restore peace and balance," according to a synopsis of the show.
"In 2008, the opening ceremony of the Beijing Olympics showed the cultural creations of the Chinese to the world," Zhao says. "The world was able to experience China's cultural charm."
Of all the shows in Las Vegas, Zhao says, none were Chinese-themed, which was the impetus for the director to take the show to the entertainment hub.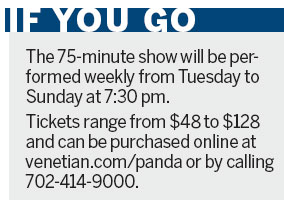 "I think Las Vegas is the live entertainment capital of the world, and we all know that there are (many tourists every year who visit Vegas), so if we have to choose a place for the first residency show from China, then I think (it should be) Vegas," Zhao says.
"The Venetian and the Palazzo have a longstanding reputation for providing the best world-class entertainment to Las Vegas audience," says John Caparella, president and chief operating officer of The Venetian, The Palazzo and Sands Expo, in a statement. "Panda! is a mesmerizing cultural production that we're thrilled to welcome to our property."
The cast features performers from the China National Acrobatic Troupe, Shaolin Monastery Kung Fu Monks Troupe and China Star Dance Troupe.