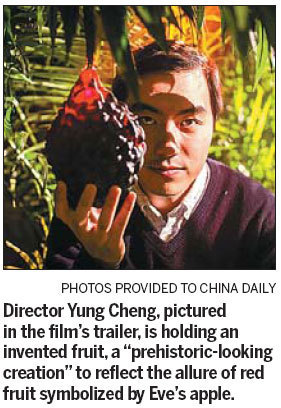 Yung Chang is circulating at a cocktail party before a Beijing screening of his latest documentary, The Fruit Hunters. In his right hand, he carries half a durian, which he's hollowed out into a fruit bowl so guests can sample a slice.
"Have you ever really tried it?" he asks with a smile. "It's really creamy and ripe."
People step away as he approaches. Noses wrinkle. Eyes widen. It may be really creamy, but ... it stinks!
"Well, yeah, it still stinks to me, too," the Chinese-Canadian filmmaker says later with an unapologetic grin. "But I've come to appreciate its complexity."
"Appreciate complexity" could almost be his mantra. He spent years working on The Fruit Hunters, hanging out with people like Noris Ledesma, a lively Colombian who has collected 600 different mango varieties but still thinks she may have missed the best one. Yung has thrashed his way through jungles from Hawaii to Borneo, but the stories he's come back with are not about climbing perilous cliffs or wrestling alligators. What Yung remembers is eating - too much.
"The jaboticaba in Brazil was really amazing - it looks like a black Concord grape," he says, noting that the fruits grow right against the tree trunk like a swarm of dark marbles.
"I must have had an allergic reaction - I think I ate at least a pound too many," he says, recalling his overindulgence in the sweet fruit's flesh. "I even got a rash that looked like the fruit." Due to its extremely short shelf-life, fresh jabuticaba fruit is very rare in markets beyond where it grows, heightening its appeal to fruit hunters, Yung says. But it has more potential than as an intriguing snack: Several promising antioxidant and anti-inflammatory anti-cancer compounds have been isolated from the fruit.
In Hawaii, Yung was entranced by a super-sweet pineapple - "the sweetest in existence, they hope it's going to be a "super fruit" - and the Burmese grape, an egg-shaped fruit, small and juicy like a longan in a skin that can be yellow, pinkish to bright red or even purple. Peel away that skin, he says, and you get a sweet-and-sour marbled fruit with pink swirls.
"Pop that in your mouth and it explodes like a Starburst candy," he says.
Related:
Jackie Chan promotes 'Police Story 2013'
Capture life in nine short minutes