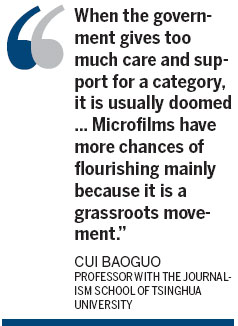 There are dissenting voices of course. Zhou Xing, a professor with Beijing Normal University, defines the length of a microfilm as 5-10 minutes.
The report explicitly excludes traditional shorts and film trailers from the category of microfilm. It designates 2011 as "year zero", citing the release of many such films by video websites and film companies. It predicts that microfilm will expand to tens of billions of yuan in industry size by the year 2018.
Although detailed data is not available, it is clear much of the current revenue comes from advertisers. The bulk of professionally produced microfilms in China is either sponsored by advertisers or are simply commercials with storylines. In other words, what sustains the growth of microfilms may also derail it if a mutually agreeable model of operation between the filmmaker and the advertiser does not emerge.
Xing Beilie, an associate professor with Communication University of China, points out that the billions of yuan some companies promised to invest in microfilms remain lip service. "The pace a steady batch of such films are churned out, at a rate of 400 a month, is Hengdian, the mammoth theme park-cum-backlot where each visitor can order one starring himself for as little as 2,000 yuan ($329). There are all kinds of existing sets and costumes, which do not require extra cost, and templates of shots expedite the operation in the mode of wedding videos. So, one thing missing from these microfilms, if they can be so called, is creativity or individuality."