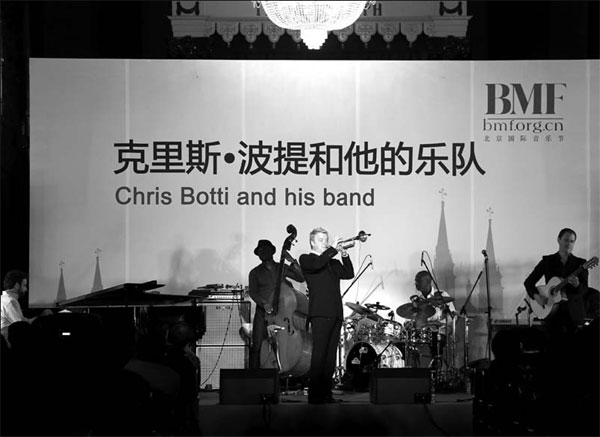 Grammy-winning jazz trumpet player Chris Botti is among the wide range of performers at the festival. Photos Provided to China Daily
Waves of thunderous applause split the solemn air that usually prevails at Wangfujing Catholic Church on Oct 11 when world-renowned US trumpeter Chris Botti made his Beijing debut.
The four-time Billboard chart-topping trumpet player recently won a Grammy for his 2012 album Impressions. His music presents "the softer side of luminosity, the realm of sunsets and half-moons", said a review in the New York Times.
Botti and his band entertained Chinese jazz lovers with his signature songs including When I Fall in Love, The Very Thought of You and a rendition of Puccini's Nessun Dorma.
"The Beijing Music Festival is a long-term partner of UBS. It helps the company raise its profile in the country," said David Li, chairman and country head for China of UBS AG, the Swiss banking giant headquartered in Zurich.
UBS has been the sponsor of the Beijing Music Festival for a decade, but provides more than financial support.
Each year, Beijing Music Festival and UBS invite renowned musicians and groups to perform at the month-long music gala.
They have included the King's College choir from Cambridge, Korean-born coloratura soprano Sumi-Jo and the famed flautist Sir James Galway.
The Beijing Music Festival, founded and directed by Chinese conductor Yu Long, has been devoted to disseminating Western music in China over the past two decades.
"The partnership perfectly matches UBS's commitment to the pursuit of excellence," Li said.
"Our values and culture complement those of the festival - to pursue excellence in enhancing the financial and cultural interests of both our clients and the communities in which we operate," he said.
The 10-year working relationship with the Beijing Music Festival "reflects the importance of Chinese markets to UBS as well as its long-term commitment to promoting the development of cultural events in China", Li said.
Related:
Chris Botti to perform in Beijing
Video: Lang Lang and LeBron become friends
Special: Music Festivals in China