Critics have lauded Adam Williams' novel, The Emperor's Bone, as a chance to re-examine a largely ignored period of China's past, writes Mei Jia.
Hong Kong-born British businessman and explorer Adam Williams has two lifelong fascinations - China and writing.
He combined the two to produce a historical novel about his family's experience in the country in the 1920s.
"My family lived through the wars among the Chinese warlords in Northern China in that time," Williams says. "They knew the threats of Chang Tso-lin (one of the key warlords then). My mother used to scare me when I was naughty with 'You'd better watch out or Chang Tso-lin will come and get you', because she was warned with the same words when she was young."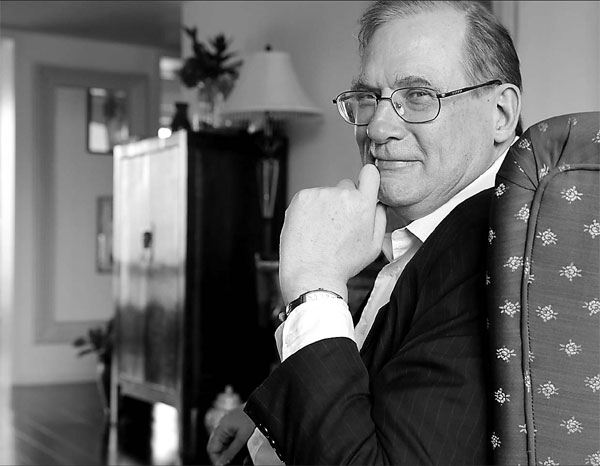 At his home in Beijing, Adam Williams talks about his new release in Chinese, that is based on his family history in China. Jiang Dong / China Daily
And after its launch in Chinese, the novel, The Emperor's Bone, caused a buzz among both Chinese critics and readers for presenting the chance to re-examine a significant period that has been recorded only briefly in history books.
"The book caught me because I'm eager to know what China really was like in the 1920s, especially with the stories told from a foreign perspective," says Huang Xiaochu, president of Jiangsu Phoenix Literature and Art Publishing House, the publisher of its Chinese version.
Williams, the 60-year-old Chief Representative of Jardine Matheson in China, is the fourth generation of a family who has lived and worked in the country since the late 19th century.
China and its history have inspired him with a series of three novels, because to Williams, his family history is part of Chinese history.
"My family lived through all those incidents and was affected," he says. "I grew up understanding a lot about the Chinese history of that period and my family history, too."
One important source for him is stories told at the dinner table by his grandmother and mother, about their life in China. Thus the "umbrella war" his grandmother experienced on a train becomes one scene in his novel. And his characters have the same professions - doctors and railway people - as his family members.
But more important to him, China in the 1920s was a collection of mythological schemes that T.S. Eliot explored in his celebrated poem The Waste Land.
"The '20s are nowadays a forgotten period in Chinese history, one of anarchy that preceded the better-known '30s when China was invaded by Japan but they were the crucible years during which all the movements that were later to affect China's history - Nationalist and Communist - were established," Williams writes in the afterword.
"Then, all the seeds for the future transformation were planted, but we didn't know which one was going to hold and be fertile," he says.
In a period when the old system has gone and the new is yet to be established, people get lost and destroyed, as "they go down wrong paths for good reasons", he says.
"That's the wasteland!"
Related: