Three generations' college dream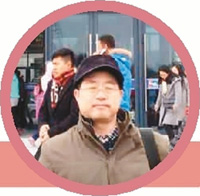 Xiao Yuan is a pen name. His real name is Xiao Aihua, a name he used to complete the most important exam in life in 1981.

He is now the executive editor-in-chief of China Health and Family Planning Yearbook, but he still remembers the day when he sat for the national college entrance exam, also known as gaokao.
At that time, Xiao had long hair, a tradition many Chinese observe when they mourn their deceased parents. Sitting in a classroom of Jingde High School in Xuancheng city, East China's Anhui province, Xiao crossed his fingers hoping he could live up to parents' expectations by doing well in the exam.
Around 20 days later, a neighbor came to him and asked him to listen to the evening broadcast in his village. When the names of those who had secured college admission were read out, he was thrilled to know that he was one of them.
"Gaokao has changed many people's fate. I am one of the lucky dogs enjoying its benefits," said Xiao. He thought although life is long, steps marking crucial shift are few.
Preparation for gaokao was an arduous journey and precarious economic conditions added to the hardship. Pickles were his everyday main course. "I lived on a jar of spicy sauces for every meal for about 40 days," Xiao said, recalling the tough days.
But this hardship was nothing compared to the loss of his mother, "The most painful thing for me was to lose my mother three months before the exam." And mother's last words were about hiding the news of her death from Xiao as she did not want anything to upset his preparation.
Xiao's grandfather Lu Guanglou enrolled in Beijing Jiaotong University but died in Nanchang Uprising, the first movement of the Communist Party of China to fight against the Kuomintang's rule in 1927. His mother Lu Qianying dropped out of school after the outbreak of the War of Resistance Against Japanese Aggression (1931-45). His two elder brothers became farmers upon graduation from primary school due to lack of opportunities.
The difficulties that the generations had experienced built up the great expectations on Xiao's college dream.
Xiao's performance exceeded the expectation. He was admitted by the prestigious Peking University with his gaokao score fifth highest in the province.
In 1981, only 280,000 candidates of the total 2.59 million across the country got the chance to be admitted by college. And in Anhui province, less than 3 percent of the candidates succeeded.
Upon graduation from Peking University, Xiao became an editor at Encyclopedia of China Publishing House and later joined in the compiling of China Health and Family Planning Yearbook.
Thirty-six years after he sat for gaokao, Xiao still remembers the tension he felt. "That is the only ladder for a rural child can use."