No letup in fight against corruption
China will continue its hunt for corrupt officials who flee overseas and their illegal assets, including the establishment of international cooperation mechanisms, the top anti-graft body pledged on Saturday.
In an article published on the website of the Communist Party of China Central Commission for Discipline Inspection, an unnamed official from its International Cooperation Bureau said the agency will not cease in its pursuit of fugitives in hiding around the globe.
The agency said it would send a strong signal to the world that "no matter where they escape to, they cannot escape the law and will be definitely be brought to justice".
The CCDI is leading a Central Anti-Corruption Coordination Group, which in 2014 launched Sky Net, a far-reaching campaign to snare economic fugitives abroad and confiscate ill-gotten gains.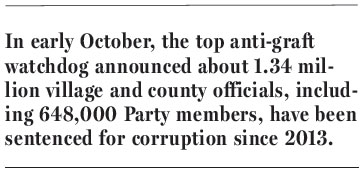 According to the latest data, more than 3,300 fugitives suspected of economic crimes had returned to China from more than 90 countries and regions, including the United States, Canada and New Zealand, and illicit assets worth 9.36 billion yuan ($1.4 billion) had been recovered.
The CCDI article said that in 2016 fewer corruption suspects fled overseas than in previous years, declining from 101 in 2014 to 31 in 2015, and 19 in 2016. The number is four so far this year.
For the next step, the office will deepen international cooperation in anti-graft campaigns, build a global network to catch criminals, showcase China's determination in fighting corruption, and build a new order in international anti-corruption, according to the article.
The agency will also strengthen its effort to keep the Belt and Road Initiative corruption-free, it said.
At the same time, for the anti-graft campaign at home, the CCDI vowed to keep its strategic focus, deepen political inspection, and make sure there are neither no-go zones during inspections nor tolerance of corruption.
It will continue to find issues, conduct full and comprehensive inspections, and ensure Party members exercise strict self-governance in every respect.
To achieve these goals, it will make connecting inspection offices across all levels of government as its focus.
The central government will expand trials of a national supervision system, which has been tested in Shanxi and Zhejiang provinces and Beijing, to all provinces, autonomous regions and municipalities.
The commissions will be given the powers and tools to investigate corrupt activities carried out by both Party and government officials in accordance with the law. These commissions will be formed at the annual provincial, city and county-level people's congresses, held around the turn of the year.
A national supervision law will also be formulated, General Secretary Xi Jinping said when delivering a report on Oct 18 to the opening session of the 19th National Congress of the Communist Party of China.
In early October, the top anti-graft watchdog announced about 1.34 million village and county officials, including 648,000 Party members, have been sentenced for corruption since 2013.
As a result, 94.8 percent of county-level Party organizations have set up anti-corruption monitoring mechanisms.

Editor's picks