Gatekeeper of primary school teaches painting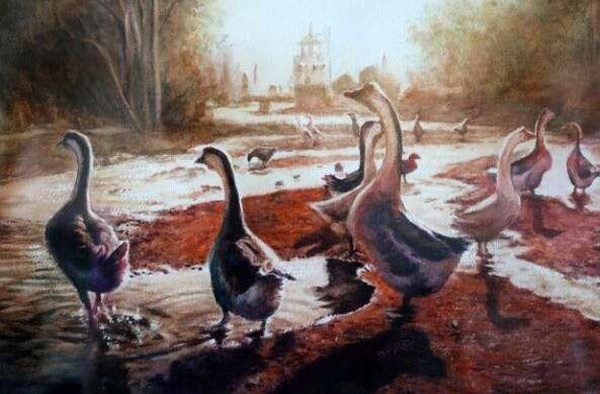 Lifelike geese painted by Li Xuebin. [Photo by Tong Liang for chinadaily.com.cn]
When someone published several watercolor paintings of a primary school security guard on the internet, it received many compliments.
Li Xuebin, 62, has been working as a gatekeeper at the Xigang District Bayi Primary School of Dalian, Northeast China's Liaoning province, since he retired two years ago.
He is responsible for guarding the campus, keeping express and small packages for teachers, and patrolling at night. But he spends almost all of his spare time painting.
Li's talents have been recognized by teachers and students of the school. Currently, he is teaching dozens of students painting once every week.
"I love staying with the kids. They can always give me some inspiration," said Li.
According to him, the school is making preparation for holding an exhibition for him.
Li's interest in painting stretches back to his childhood, when he imitated countless comic strips and drew lots of pictures. Then he studied arts in secondary school and college.
Whether he was working on a farm or as a shipbuilding technician, Li never stopped painting. Some of his works won prizes at art exhibitions and contests in Dalian and even Liaoning province.
Li intends to set up an art workshop in the rural area of Dalian next year to draw inspiration from natural scenery and local flavor.
"I would enjoy country living and be content that I can paint every day and teach children how to paint," said Li.

Editor's picks