Once taboo, wills becoming acceptable to elderly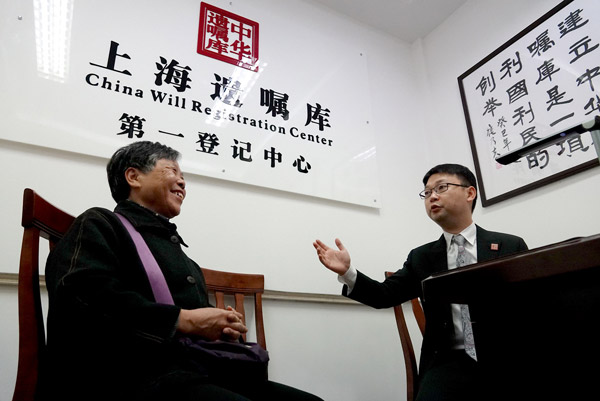 Chen Kai (right), director of the China Will Registration Center, explains how to draft and store the document to Gong Jinhua, 68, in Shanghai on Wednesday. [Photo by GAO ERQIANG/CHINA DAILY]
More elderly Chinese are coming around to the idea of writing a will, to avoid disputes among family members, especially over the division of property, after they've departed.
Although still uncommon, anecdotal evidence shows a growing awareness nationwide that a written will can help prevent problems that can arise when someone dies.
"The phone has been ringing off the hook all day with people wanting to make an appointment," said Zhao Zhongxing, who runs the China Will Registration Center's Shanghai branch, which opened on Wednesday.
The center, which has six branches across China, offers legal advice on drafting and storing wills. Its services are free to the elderly, although charges are levied for later amendments.
Shanghai was chosen as the latest location because the average age there is rising rapidly. According to the city's bureau of statistics, about one-third of residents - 4.57 million people - are age 60 or older.
"The proportion of elderly in Shanghai is about double the national figure," Zhao said. "Meanwhile, there's an increasing number of people who want to specify how the wealth they leave behind is distributed, so more elderly are considering a will."
The trend is not restricted to the eastern metropolis.
"Due to demand, we started opening regional branches in 2015," said Chen Kai, president of the Beijing Sunny Senior Health Fund, which founded the center with the China Aging Development Foundation in 2013 as a charity project.
"We have another one opening in Chongqing on Nov 16," said Chen, also director of the center. "In the past four years, we have provided consulting services to more than 100,000 people, and registered about 70,000 wills."
The center requires people to write their own wills - under guidance - and read them aloud for an video recording to be stored until their death. So services are not available for people who are unable to read and write.
More than 70 percent of its clients are in their 60s and 70s, and with real estate prices soaring in recent years, more than 95 percent of the wills registered and stored by the center deal with the division of property, Chen said.
"As Chinese society ages, people's attitudes toward wills are changing," said Yan Qingchun, executive vice-president of the China Aging Development Foundation. "More people are no longer against the idea of leaving a will, which should be seen as a 'note of happiness' for the family."
Gong Jinhua, 68, visited the center's Shanghai branch on Wednesday to learn more about the registration process. She has a son and an adopted daughter, and wants to leave them her two apartments - one in Shanghai and one in Jiangxi province.
"I learned from my elder sister that notarizing a will is complicated, so I came to find out," Gong said. "Everyone gets old and finally dies. Instead of waiting until the last minute, why not prepare in advance?"
Other law firms provide will services, but the charges can be high, Gong added.
Zhao Yuqin, 65, registered her will this year with the center's branch in Nanjing, Jiangsu province. She has one son, her only child. What worries Zhao is the various documents he will need to inherit her property.
There's a common belief among the Chinese that a son should inherit his parent's wealth. But the reality is more complex. Under the law, if someone dies without a will, their spouse, parents and children all have a claim as primary inheritors. Zhao's son will need to provide death certificates for his grandparents, and a written document from Zhao's husband relinquishing his right to any property.
"I was concerned in the beginning, since it's taboo for someone to write a will," Zhao said. "But I thought it through. I told my son that what I was doing was making it less troublesome for him."