Shared-bike hunters stalk streets after dark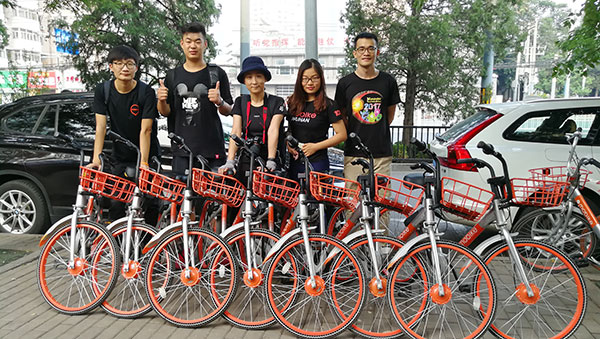 Bike hunters pose for a group photo after tiding up a dozen shared bikes on a Beijing sidewalk. [Photo provided to China Daily]
Random parking and other violations by users of dockless bicycles have prompted people nationwide to take action
By day, Zhao Qi, 23, is an architectural designer in Beijing, but after dark, he is a seasoned hunter in the concrete jungle. Residential areas are his hunting grounds, his smartphone is his weapon, and poorly parked shared bikes are his prey.
On finding shared bikes that have been parked arbitrarily or are blocking traffic, Zhao takes a photograph and reports them to the bike-share providers. Then he unlocks the bicycles and moves them to a nearby public parking area.
Many Chinese bike-sharing companies have started rewarding hunters with credit and punishing violators with higher fees or bans. Previously, Zhao corrected violations at his own expense.
"I don't see hunting as a job. I do it because I have an interest in it," Zhao said.
About 130 million commuters have been using dockless shared bikes since the industry took off in China's big cities in April last year. Meanwhile, hunters have also increased and now number about 100 nationwide.
Hunters come from all walks of life: retirees, housewives, deliverymen, surgeons, IT managers and college students.
At first they were fans of Mobike, a leading bike-sharing company. But some are such keen cyclists that they cannot abide violations of the bike-sharing rules.

Editor's picks