Shared-bike hunters stalk streets after dark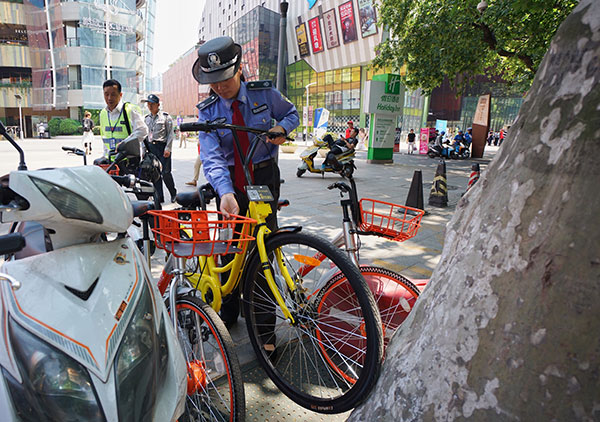 A traffic police officer moves a poorly parked shared bicycle in Nanjing, Jiangsu province. [Photo/Xinhua]
New demand
About 70 firms operate more than 16 million shared bicycles in China now and they're gearing up for global expansion. They are credited with helping commuters in congested cities and promoting healthy lifestyles.
According to Beijing's city transportation commission, bicycles accounted for 63 percent of trips in the 1980s, but that dropped to 17.8 percent in 2014. A lack of and illegal occupation of bicycle lanes Liu Yukuned to the trend, experts said.
Zhao said bike-sharing services are reinvigorating demand for cycling, which has been overshadowed by "four-wheels worship" in the past few decades.
Since August, the government has set new guidelines to keep the bike-sharing system on track and avoid random parking. Some cities have built new bicycle lanes and parking areas.
Companies have maintenance workers to move bikes to authorized areas. They are also working on electronic fences and using real-time data to put bikes where they are most needed.
Zhao has mixed feelings about the developments. Sometimes, he is disappointed after a slow night of hunting. But he conceded: "The final goal of hunters is to have nothing to hunt."

Editor's picks