Dedication sees growth of 'super rice' yields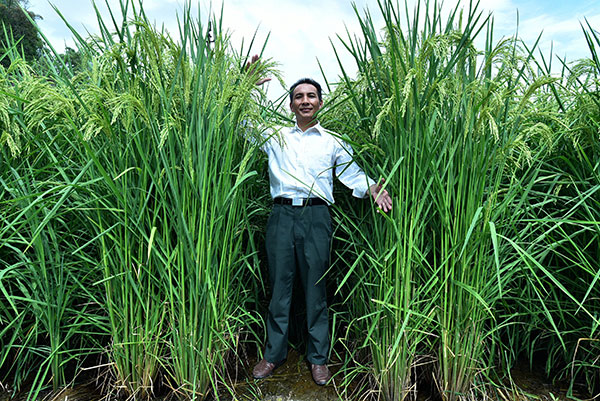 Wang Huayong poses with super rice on the farmland he manages in Shaoyang, Hunan province. [He Shangsheng/For China Daily]
While Yuan Longping and his "super hybrid rice" may be household names in China, Wang Huayong is less well known. But without the efforts made by Wang and his colleagues, record-breaking rice yields might have been no more than a theory.
Wang, 47, is the director of a rice yield research project in his native Yangguao village in Shaoyang, Hunan province. This year, he is expecting the rice yield in his field to reach a record 17,000 kilograms per hectare.
"Yangguao has an agreeable environment for rice growing, and in 1996 it was selected by the Ministry of Science and Technology as a national experimental base," Wang said. "But when I took over the task in 2009, the village had failed to meet the target set by the ministry for four consecutive years."
Wang was born into a poor farming family in 1970. After graduating from high school, he went to work in a brick works to ease the financial burden on his family.
In 1999, he bought his own brick works and became one of the village's wealthiest residents.
When the experimental base failed to meet the rice yield target for the fourth year in a row in 2008, the local agricultural authorities turned to Wang for help. They believed that large-scale farming under unified management, as opposed to scattered farming by individual farmers, was the key to the problem.
"At the time, the local authorities were badly in need of someone who was financially capable of managing paddy fields of more than 100 mu (6.7 hectares), and I was one of the few people to choose from," he said.
Though a successful entrepreneur, Wang knew nothing about agriculture. Besides, all the previous super rice yield research projects had been undertaken by local governments, and the prospects for an individual were unclear.
Wang chose to take on the challenge because hunger had been a constant memory for him when he was young, and the chance that he could make a difference interested him.
"Just as President Xi Jinping once observed, 'The bowl of the Chinese people should be firmly in the hands of Chinese'. Only by developing our own agriculture will food security be guaranteed," he said.
In 2009, Wang contracted some 10 hectares of farmland from villagers and became the first individual in China to manage an experimental field of super rice. "My family was unsupportive at the beginning, because my brick business was lucrative, and I knew nothing about agriculture," he recalled.
To make up for his lack of farming knowledge, Wang frequently consulted Yuan Longping, experts at the local agrotechnical station and experienced farmers, and spent hours every day in the fields studying the plants. He also put 2.1 million yuan ($316,570) - his entire savings at the time - into the project to fund the initial experiments.
One year later, the yield was more than 13,000 kg per hectare, surpassing the target of 12,900 kg, according to the Ministry of Science and Technology. The success continued for the next seven years, with the yield exceeding 16,000 kg last year.
In 2012, Wang set up a super rice agrotechnical promotion center to provide advisory services to farmers as well as a cooperative to purchase super rice above market price and encourage villagers to plant it.
"I became a farmer when I took up the task in 2009, and I want my fellow villagers to benefit from cutting-edge agricultural technology," he said.

Editor's picks