Paralympic participants to be equal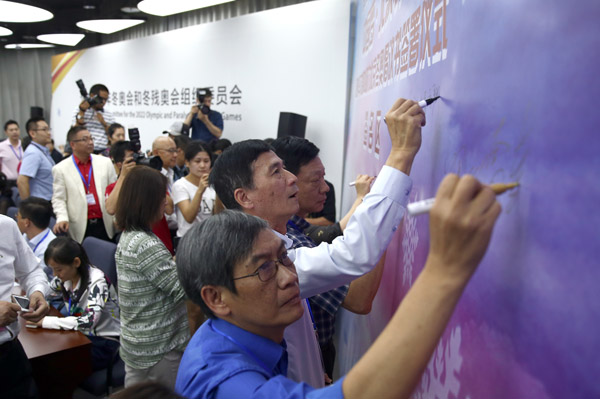 Representatives of 50 overseas Chinese media outlets sign their names in support of the Beijing 2022 Winter Olympic Games and Paralympic Games on Thursday. [Photo by ZOU HONG/CHINA DAILY]


Olympic planners say all athletes will get same level of support for 2022
To ensure the equal success of the 2022 Olympic and Paralympic Games, Beijing has pledged to provide disabled athletes with the same support and access to winter sports that other athletes enjoy and to promote inclusiveness.
With less than five years until the 2022 Winter Games, the Beijing Olympic Organizing Committee has emphasized integration of the parasports gala and winter sports promotions among disabled people throughout the preparatory process. That was highlighted in a progress report delivered at the International Paralympic Committee General Assembly in Abu Dhabi.
"Synchronized planning and preparations for both Games is at the core of our principal guarantee that both events will be equally successful," Lu Yong, vice-president of the committee, told China Daily during the IPC conference on Wednesday.
As a national plan rolls out to involve 300 million people in winter sports activities leading up to 2022, Lu said that people with impairments should be included to fulfill Beijing's vision for pushing social inclusion and accessibility.
"There is huge potential for improving awareness and facilities for winter sports for the disabled as a means of recreation and rehabilitation," said Lu, who is also board chairman of the China Disabled Persons' Federation.
The federation, along with officials in Beijing and Hebei province and sports governing bodies, is working to expand parawinter sports to 12 provinces. The number of full-time athletes specializing in parawinter events has risen since 2015 from fewer than 50 to nearly 400.
Since 2016, China has hosted 10 winter sports events for people with disabilities. A total of 250 Chinese athletes have participated in 17 international parawinter events.
Yet, the lack of training expertise and dedicated facilities has posed a challenge, underlined by China's medal drought at the past four Paralympic Winter Games.
Lu believes the promotional efforts will make a difference by 2022 but insists that winning medals is not the goal.
"Gaining more attention and support for building an accessible, inclusive and equal environment for people with disabilities is what matters," he said.
Sixteen venues, all for the 2022 Winter Olympics, will be used to host paralympic sports as well as for hospitality and media functions.
Rita van Driel, an IPC Governing Board member from the Netherlands and a member of the Coordination Commission of Beijing 2022, said Beijing is well on track to once again deliver a successful Paralympics.
"Beijing showed in 2008 that it was able to deliver an excellent Paralympic Games with a great legacy for people with impairments. Building on that experience, I believe it will deliver another extraordinary Paralympic Games in winter as well," she said.