Chinese Paralympian Li Lu was out to prove something when she arrived at the recently concluded Paralympic Games in Rio de Janeiro.
The 21-year-old certainly achieved what she set out to do by smashing the Asian record books and claiming gold in the women's 400m T47 final.
Li, who is without a forearm, came from behind in the last 50 meters to clock a time of 58.09 seconds, beating former champion Anrune Liebenberg by a mere 79 hundredths of a second.
Born to a farming family in Nanyang, Henan province, Li lost her forearm after being electrocuted in an accident when she was five years old.
The accident brought great sorrow and pain to Li and her family at first, but she soon learned to face her disability with a sense of optimism.
"Li Lu was very intelligent since she was a kid. She often helped us do housework, and did better jobs than her cousin though without a forearm," Li's grandfather said with pride.
Li was introduced to running at the age of 15 and soon after began winning races in Nanyang, capturing the attention of national coaches.
Despite having many years of running ahead of her, Li has been determined to dominate her sport as soon as possible.
"I can do whatever others have done. I want to prove myself," said Li.
It is that indomitable spirit that has helped her rack up an impressive CV, which includes three gold medals at the 2013 Asian Youth Para Games.
"The sport has given me a lot of spiritual strength. I want to express my gratitude to people for supporting me and myself for never giving up," said Li in a post on her sina Weibo account after her Paralympic triumph.
While Li has no plans to hang up her running shoes anytime soon, she hopes to focus more of her attention on her studies, after enrolling at the Physical Education College of Zhengzhou University in 2015.
"Gold medals are not the be all and end all of my life; I'll keep going."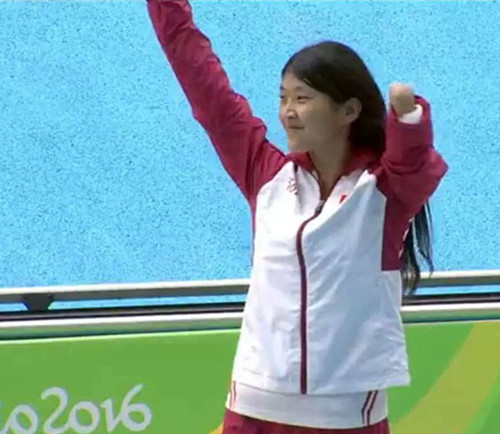 Li Lu celebrates winning gold at the Rio Paralympic Games. [Photo/Henan100.com]