Teen who lived in a Guangxi cave starts high school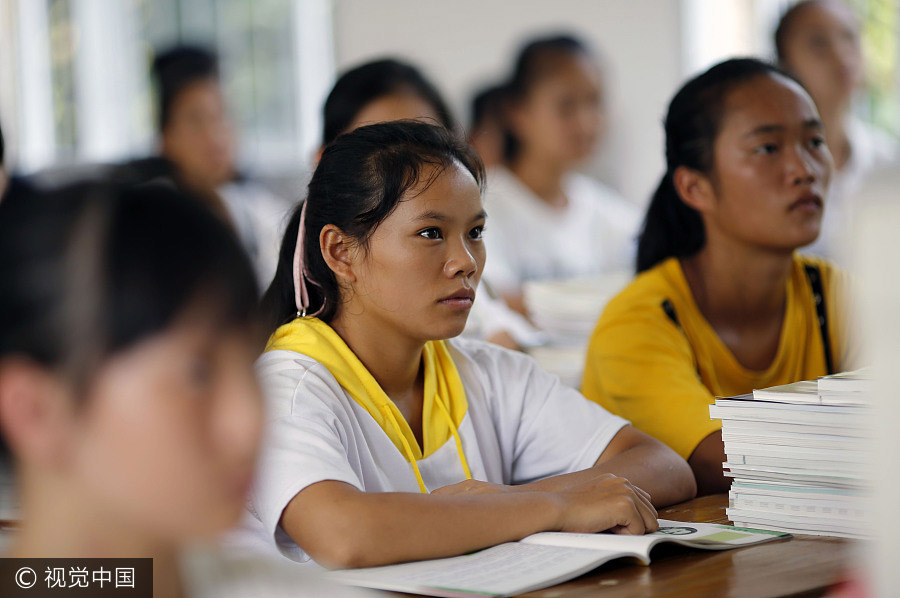 Li Juxiang sits in a classroom with classmates at a high school in Gongcheng Yao autonomous county, Guangxi Zhuang autonomous region, Sept 4, 2017. [Photo/VCG]
A 17-year-old girl who lived in a 7-square meter cave for eight years recently entered high school in South China's Guangxi Zhuang autonomous region.
Li Juxiang was born in a cave in Gongcheng Yao autonomous county and lived there for eight years. Her story drew public attention since she took care of her mother with mental ill at six years old when her father "disappeared."
The girl shouldered the family responsibilities alone, doing laundry, cooking and cutting firewood. To make some money, she helped neighbors pack persimmons at 7 yuan ($1.07) per 300 persimmons.
The local village committee and compassionate people stepped in after discovering the family's poor living conditions, which had no drainage, and helped them build a house. Li started school with help from kindhearted people nearby.
Li used her excellent performance in school to respond them. With a grateful heart, when Li always made certain foods, such as red bayberry wine or dried sweet potatoes, she sent some to the people who helped her.
"I'll still strive to live and learn, for entering college, getting a job and bringing a benefit to society," Li said.