Waking up to a nighttime killer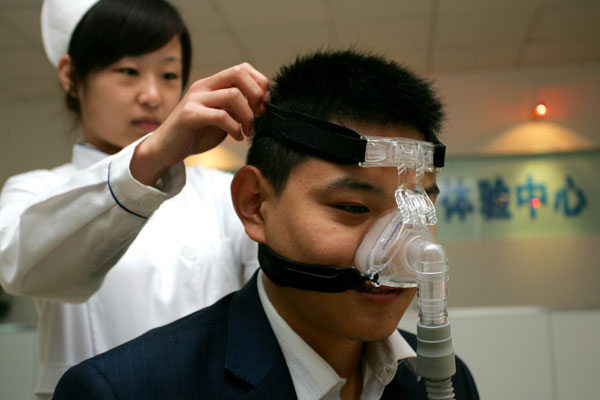 A nurse at Weifang No 2 People's Hospital in Shandong province applies a monitoring device that helps specialists in obstructive sleep apnea assess the optimal air pressure needed to keep a patient's airways open during the necessary long-term therapy. ZHANG CHI/CHINA DAILY
Home testing kits for sleep apnea are cutting hospital waiting times and helping patients recover faster.
Kong Siu-ki used to regularly wake up on mornings feeling as exhausted as when he went to bed the night before. He rarely slept well. Neither did his family, as his loud snoring could rattle the dishes.
Yet this portly, 54-year-old man simply dismissed it as one of life's little irritants. He would go through the day tired and listless, never grasping that his sleep difficulties were destroying his health.
A lack of sleep affects the body's normal healing processes and cognitive functions, leaving a person accident-prone or hyperactive. Research has also found sleep-deprived individuals process glucose more slowly, which increases the risk of Type 2 diabetes, and have a shorter-than-average life span.
Kong was obese, diabetic and had high blood pressure. Yet it was only in November, when he consulted doctors about getting laparoscopic surgery-an adjustable gastric band around the stomach-to lose weight, that he learned the terrifying ramifications of his loud snoring.
Doctors suspected he had obstructive sleep apnea, a disorder in which people have paused or shallow breathing during sleep. One doctor issued a stark warning: Kong would need anesthesia to go under the knife, but if the sleep apnea was left untreated, the anesthetic could soften his throat muscles, blocking his airway, which could kill him.
"I had no idea. I was overweight, drowsy and snored louder than other people, but I thought that was all," Kong said.
David Hui Shu-cheong, head of medicine and therapeutics at the Chinese University of Hong Kong, who specializes in respiratory medicine, stressed that one of the biggest risk factors associated with sleep apnea is obesity.
Anyone with a large neck is at risk. Then there are other issues like smoking and alcohol that only make things worse, he said.