Chengdu eyes return to 'bicycle kingdom'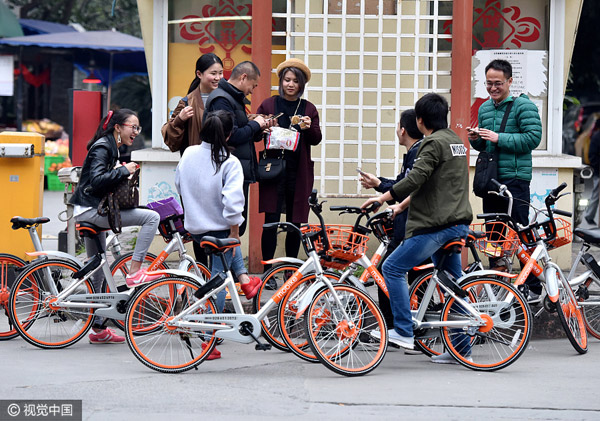 "Shared bikes hunters", a team of volunteers protecting shared bikes, gather for activities to "rescue" the bikes from misconducts in Chengdu, Sichuan province. [Photo/VCG]
China, the former kingdom of bicycles, will build more than 16,000 kilometers of bicycle lanes over next 23 years, in an attempt to reduce pollution and ease traffic congestion, the British newspaper The Times reported recently.
The paper highlighted a pilot scheme in southwestern city of Chengdu under which a "slow traffic system" was launched on Sept 2.
The city expects to build 798 kilometers of bicycle lanes, along with other walkways, as part of its urban greenway construction plan.
Around 20 years, ago, walking and cycling made up 70 percent of urban travels, with cycling contributing up to 30 percent, in Chengdu, capital of Sichuan province, the local newspaper West China Metropolis Daily reported.
However, in 2016, cycling's share was only 4 percent, with automobiles taking up more than half of the total, it said.
Shared bikes that began appearing last year and quickly became popular have brought an opportunity for urban travel to go back to green, especially at a time when people are paying more attention to environmental protection.
The Chengdu city government announced a greenway plan on March 28 that will see construction of 798 special bicycle lanes and 2,325 kilometers of roads with bicycle lanes.
"In the past, Chengdu was an ideal city for bicycles," said Wan Xiaopeng, chief planner of Chengdu. He said the "kingdom of bicycles" will reappear in Chengdu thanks to the government plan.