Dongguan tycoon gets life sentence
Liang Yaohui convicted of running a prostitution operation in city
A business tycoon and former national legislator has been sentenced to life behind bars for bribery and organizing prostitution in Dongguan, Guangdong province.
Liang Yaohui, who is in detention, received the verdict of the Dongguan Intermediate People's Court by express mail on Tuesday, according to his attorney, Wang Silu.
Wang said his client, a former deputy to the National People's Congress, was not present when the court sentenced him on Friday.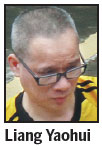 "All the properties Liang illegally gained have been confiscated, and he has been deprived of political rights for life," the lawyer said.
Forty-four former employees in Liang's hotel were also sentenced to jail terms of at least 16 months for organizing or aiding the organization of prostitution and destroying evidence. Two others were placed on probation.
Liang, 50 - also known as Taizi Hui or Prince Hui - was the boss of the Crown Prince Hotel, a major five-star property in Dongguan that was once celebrated for its entertainment industry.
Liang was investigated for setting up 99 sauna rooms and organizing prostitution in the hotel, located in Dongguan's Huangjiang township.
"The investigation found that Liang had been organizing prostitution since 2004," the verdict said. "In 2013 alone, the sauna department in Liang's hotel, built in 1995, earned a profit of more than 48.9 million yuan ($7.32 million)."
The hotel was closed down when Guangdong police launched a campaign against prostitution in the wake of a China Central Television report in February 2014 on the rampant sex trade in the city.
More than 1,000 suspected prostitutes and clients, along with leaders in the sex trade, were detained. Some of the suspected female prostitutes were minors.
Dozens of police officers were also removed from their posts and placed under investigation. They allegedly acted as "protective umbrellas" for prostitution and were suspected of tipping off gangs to police raids.
Liang was detained in April 2014 on suspicion of running a prostitution operation and destroying material evidence, according to the Dongguan public security bureau.
Liang denied all the charges at his trial. Wang, the attorney, did not say whether his client will appeal the verdict.
Liang, one of the richest people and a well-known figure in Dongguan, was once an entrepreneur in the city, one of the major production bases in the mainland. He is said to own property worth more than 2 billion yuan.
In addition to operating hotels and sauna houses, Liang's businesses involved crude oil and other industries. He was once chosen among the top 10 most charitable people in Dongguan. He had donated more than 56 million yuan to local charities.
Liang was selected as an NPC deputy in 2008. He was disqualified after he was detained.
zhengcaixiong@chinadaily.com.cn
(China Daily 08/16/2017 page4)