World's largest floating solar farm starts operating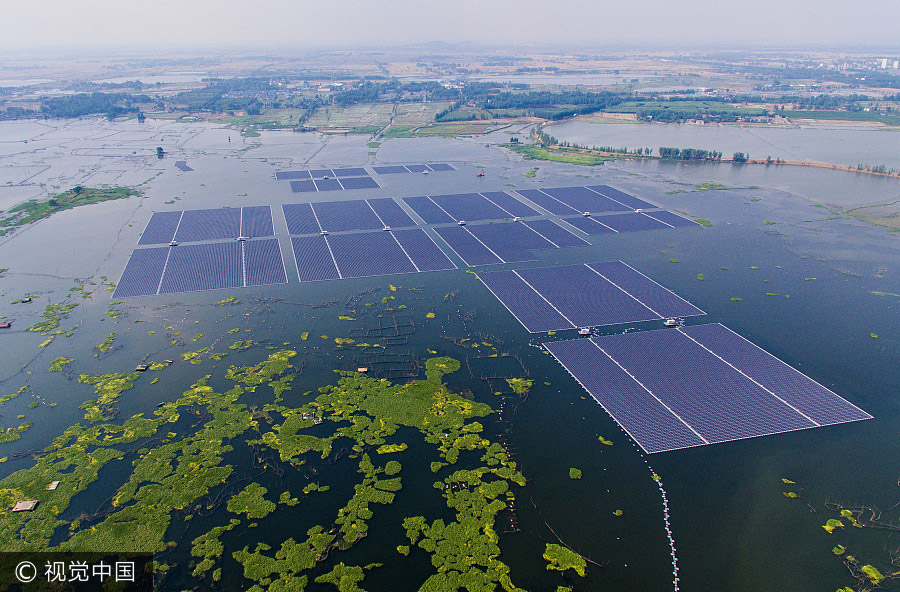 A floating solar farm on a coal mining subsidence area in Panji district of Huainan, Anhui province, on June 7, 2017. [Photo/VCG]
A gigantic 40-megawatt floating solar farm has started generating power in Huainan, a coal-rich city in East China's Anhui province. The farm could power about 15,000 homes a year.
More than 120,000 photovoltaic panels were installed on floats covering around 86 hectares on the water surface of a coal mining subsidence area, according to the company running the project, a branch of the Sungrow Power Supply Co Ltd.
Xiao Fuqin, deputy general manager of the branch, said that the floats are 200 to 300 meters away from the bank on the subsidence area that is 400 hectares, to ensure the decreasing water does not impact the farm.
"On the surface, the floats just stay on the water, and the truth is that more than 1,000 reinforced concrete piles are installed on the bed, keeping the floats in order," Xiao said.
The farm has a life of 25 years, and that demands the facilities must be designed to resist the aging factors, such as the heat, salt and humidity that comes from being on the water.
A floating solar farm has advantages of not taking up scarce land resources compared with a conventional solar farm, protecting the environment and benefiting the local development.
Drones patrol the floating solar farm, said Xiao. "The drones are the patrollers, and they will first arrive at the scene to supervise and take photos."