World's largest automated port nears completion in Shanghai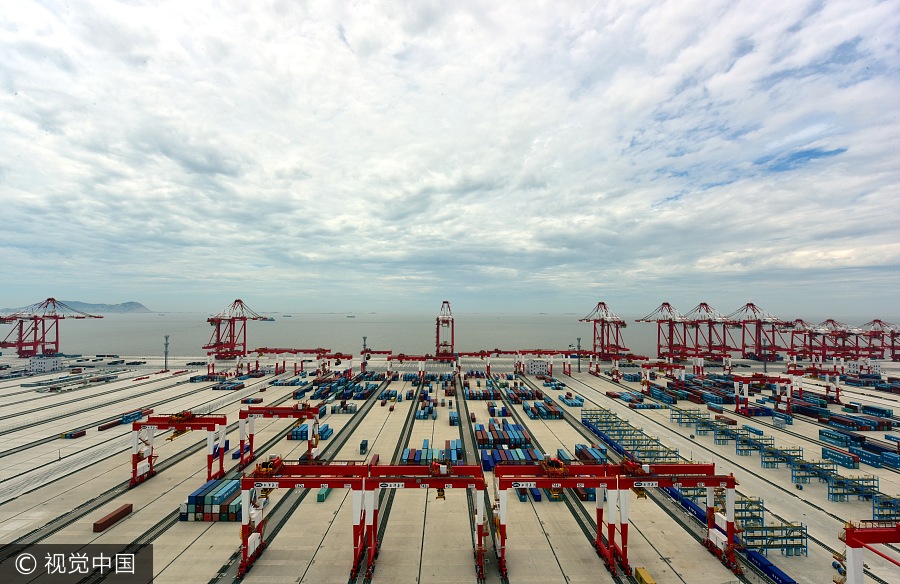 The construction site of the fourth phrase of the construction of Shanghai International Shipping Center's Yangshan Deep-Water Port, July 9, 2017. [Photo/VCG] 
The world's largest automated port in terms of both scale and size is expected to become operational in Shanghai on Dec 10, according to a report by hket.com on Monday.
The fourth phrase of the construction of Shanghai International Shipping Center's Yangshan Deep-Water Port has nearly reached completion and now equipment are being installed and tested for debugging, the report said.
It is designed to handle 4 million standard containers per year in the near future and 6.3 million in the long term. The port will be able to accommodate the world's heaviest ships.
Compared with other ports, its distinctiveness is that automation equipment and control system will be used on such a scale in a port for the first time. The loading and unloading of containers will all be controlled by computers and transported by driverless vehicles.
Zhang Bin, the general director of the port's construction, said the automation equipment can load 25 containers per hour.
The core technology of the robotic port was developed independently by China.
The forth phrase of Yangshan port takes up an area of 2.23 million square meters, whose coastline stretches as long as 2,350 meters. It consists of two 70,000 DWT berths and five 50,000 DWT berths.