12-year-old gives birth, abandons baby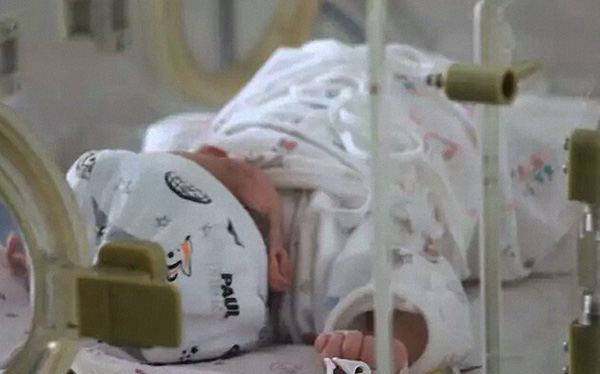 The baby girl abandoned by her mother receives care at a hospital. Provided to China Daily
The police in Yibin, Sichuan province, are investigating the case of a 12-year-old girl who gave birth to a baby girl, and are pledging to hold the father accountable.
Police said that they are looking for the male but did not identify him.
On Friday evening, police in the city's Nanxi district received a call about a newborn baby abandoned in the grass under an overpass. Police rushed to the scene, asking doctors from the district hospital of Traditional Chinese Medicine for help.
According to the publicity department of the district committee of the Communist Party of China, doctors found the baby was cold and did not cry.
Doctors thoroughly examined the infant, including blood tests and a CT scan of her head, and did not find any serious problems. But as her condition was fragile, doctors placed her in an incubator and provided intravenous medicine.
Police investigating the case found the mother, a 12-year-old, in Jiangnan town. Her parents, both migrant workers, had left her behind with her grandparents. But they took her 13-year-old brother with them.
The town government has asked villagers not to gossip about the matter in order to protect the juvenile mother's privacy.
The Nanxi bureau of civil affairs, the police and the hospital have agreed to send the girl to a welfare center for children in Yibin after she recovers from childbirth.