Car-sharing will help drive a better future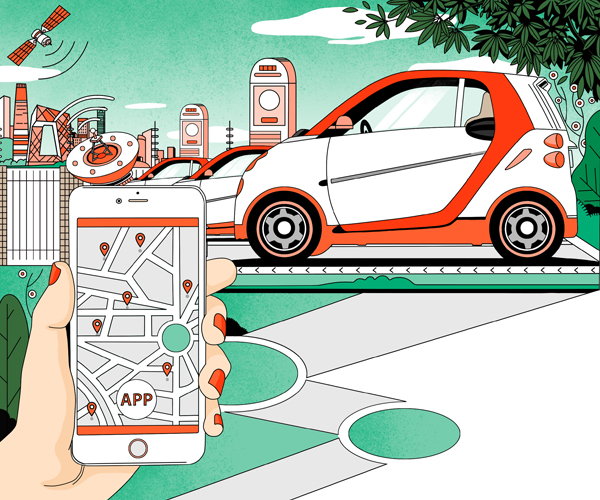 As bike-sharing booms in China, a guideline was released to promote a new form of the sharing economy-this time involving vehicles.
The move was expected to help ease traffic congestion in big cities, while market analysts believed the new mode will take longer to develop than the booming bike-sharing business due to higher costs and difficulties in parking.
Car-sharing, which provides an alternative for people to travel in cities, can enhance their transportation experience. It will be an innovation in a service model, technology and management of traditional car rentals, according to the guideline to promote a healthy development of small and micro-vehicle rentals. The guideline was co-released by the Ministry of Transport and the Ministry of Housing and Urban-Rural Development on Aug 8.
The document focuses on legal status, insurance and regular maintenance of cars before they join sharing services. It encourages the development of car-sharing, which is expected to reduce the inclination to individually buy vehicles and ease traffic congestion amid a surge in recent years of private-car ownership.
In addition, the guideline also encourages the use of new smart technologies such as satellite positioning networks and mobile internet-based applications that will facilitate management of cars and users when they make orders.
The sharing economy has been booming as China carries out the Internet Plus Initiative, a strategy to integrate traditional industries with internet and information technologies. Currently, more than 30 companies are providing car-sharing rentals, which are estimated to grow by 45 percent each year in the next 10 years. By 2025, as many as 600,000 cars will be rented in this way.
The transaction value, which reached 360 million yuan ($53 million) from car-sharing business last year, will soar to 8.6 billion yuan in 2020, according to data provided by analysys.cn, a consultancy headquartered in Beijing.
The guideline specifically aims to boost the development of car-sharing and stipulates requirements in rental operations, services and risk management, which will ensure a healthy development for the industry, said Liu Qian, market director of atzuche.com, an online car-sharing platform based in Shanghai.
Car-sharing, like bike-sharing, will be a key component for China's urban transportation system, aiming to effectively reduce the number of privately-owned cars, said Zhu Dajian, director of the sustainable and new urbanization think tank at Tongji University in Shanghai.
However, a car costs at least 100,000 yuan, almost 500 times that for a shared bicycle. Parking will be another problem for shared cars as most major cities are trying to contain traffic in downtown areas by controlling parking space, said Xia Xueluan, a professor of sociology at Sanya University in Hainan province.
Meanwhile, traditional car rental companies are competing with the emerging car-sharing businesses. It's estimated the charges will be almost the same for both forms of car rentals, Xia said. How to survive fierce competition will remain a challenge for car-sharing providers, he added.
Zhu said the government issued guidelines for bike-sharing and online car-hailing services long after these new businesses saw rapid growth. Bike-sharing has imposed challenges on urban management as some streets or roads are jammed with abandoned bicycles, though the bikes give new options for people to travel "the last mile" in giant cities such as Beijing.
"The new guideline predicts potential problems and sets requirements to settle them. It can be seen as an exploration by the Chinese government in the sharing economy," Zhu said.
The fundamental goal of developing car-sharing is to reduce the number of private cars and raise the efficiency of driving, Zhu said.
"Shared cars also take the same spaces as other private cars, a relatively less efficient way to make use of limited parking spaces in cities. Therefore, Chinese cities should promote public transportation and car-sharing as well," he said.
In this sense, car-sharing services should integrate with other public transport means such as bike and buses to curtail people's desire to drive, he said, adding that traffic congestion will be eased when the integration is fulfilled.