Awareness by upstream residents pays dividends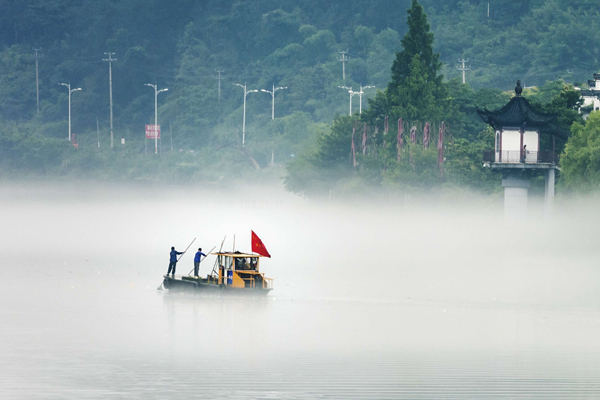 People collect trash in the upper reaches of the Xin'an River in Huangshan, Anhui province. [Hong Changsun/For China Daily]
The rise of environmental awareness among inhabitants of areas along the upper tributaries of the Xin'an River-people like fish farmer Hu Chengjiu-is believed to be the crux of sustaining the entire ecological program along the main channel.
Huangshan city built garbage disposal stations in every village along the river. Nearly 3,000 residents are employed as sweepers of public sites in the rural communities.
In some communities, there's even a garbage exchange supermarket-for instance, 20 pesticide bottles can be exchanged for a packet of salt.
"These things are bad for the soil. We chose them to exchange for life necessities at the supermarket. It kills two birds with one stone," said Yu Fengqing, who is in her 60s and traveled many kilometers to exchange a sack of pesticide packages and bottles at the Liukou township supermarket.
In 2015, Huangshan began purchasing low-toxicity pesticides collectively for farmers, and the farmers are encouraged to buy the carefully chosen chemicals directly from the government.
"In the system, there are 65 types of pesticides, among which 45 are of low toxicity and residue. The other 20 are biological pesticides," said Bao Zhouming, a senior agronomist in Huangshan's agricultural administrative commission. "It not only cuts farmers' costs of purchasing pesticides but also ensures the quality and safety of agricultural products and the river's water."
The city is also working on a plan to implement a unified purchasing and supply system for chemical fertilizers, Bao said.
In Xiuning county, where Hu lives, more than 3,600 families operate 5,000 spring-water fishponds using traditional local fish-farming methods dating to the Song Dynasty (960-1279). It stresses clean water and organic feeding.
The villagers said the preservation of the Xin'an River revives their time-honored methods. According to Wang Zhongyu, head of the county government's poverty alleviation office, more than 560 poverty-stricken families in Xiuning ran the fishponds last year. It took only a year for half of them to bid farewell to poverty because of the profitability of fish raised in spring water. The fish are popular with tourists.
Tea growing is another source of revenue for the villagers.
More than 100,000 farmers are engaged in industries catering to tourism in 188 villages, which received more than 37.2 million tourist trips last year, more than 70 percent of the total of the city. Annual rural tourism revenue generated was 26.3 billion yuan ($3.9 billion).
The residents are confident their way of development, which strikes a balance between ecology and economy, is not only sustainable but also transplantable to other places.