Agricultural research grants lure top talent
China is offering research grants of up to 500,000 yuan ($74,000) to attract world-class talent to the agricultural industry, as the nation looks to gain an edge in an increasingly competitive sector.
The money will support top-level experts and young elites from home and abroad to boost development and innovation, according to the Chinese Academy of Agricultural Sciences, which will handle the payouts.
Some 5 million yuan a year will also be allocated to promote academic exchanges among postdoctoral researchers, provide health checks for industry experts and create awards for those who make outstanding contributions.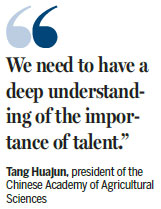 The academy said the move aims to attract more talent and nurture potential, with the goal of having about 4,750 researchers aged under age 45 in the agricultural sector by 2030.
China faces growing competition for talent in agricultural industries, and the current situation cannot meet the demand for the nation's future development goals, said Tang Huajun, president of the CAAS.
"We need to have a deep understanding of the importance of talent and take concrete measures to improve the situation," he said.
The new grants come as the CAAS celebrates its 60th anniversary. In a congratulatory letter, President Xi Jinping urged the academy to step up innovation and strive for a leading position in science and technology.
In addition to financial support, the academy has said it is exploring opportunities for more exchanges with overseas counterparts in developed countries and regions, including Australia, North America and Europe.
Over the past two years, the CAAS has invested about 280 million yuan in helping top young scientists purchase equipment and carry out R&D.