German firm acts over China Daily's poverty-relief reports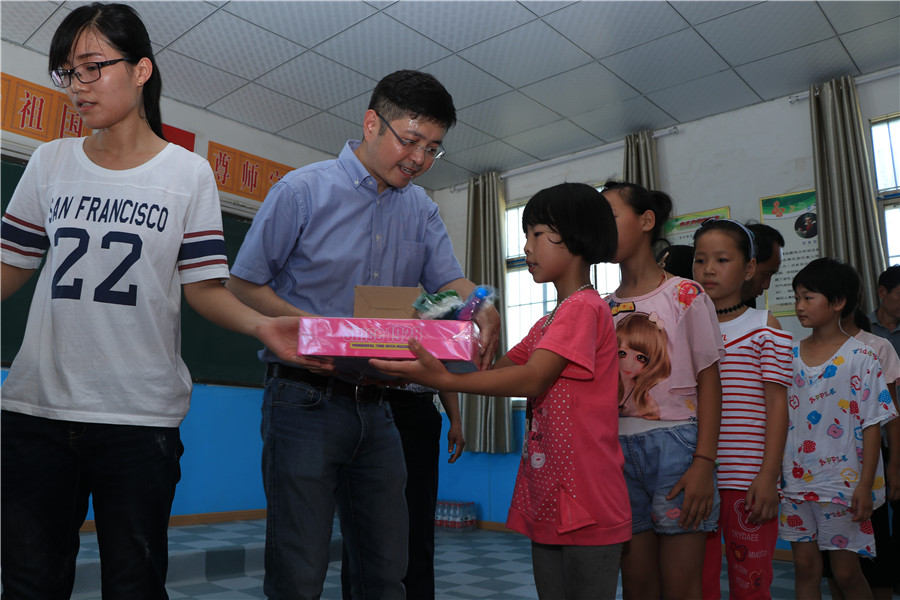 Bu Xin (second from left), executive from VIA Optronics, hands over presents to left-behind children from Chenxiaozhai village in Anhui province on Friday afternoon. [By Zhu Lixin/chinadaily.com.cn]
VIA Optronics (Suzhou), a German company based in Suzhou city of East China's Jiangsu province, sent a batch of employees to Anhui province's Lyuzhai Township to visit some left-behind children and impoverished households, as a response to China Daily's previous reports about the poverty-stricken area.
The staff members arrived at Lyuzhai, which is over 600 kilometers from Suzhou, on Friday morning and visited the township's Zhanglaozhuang primary school in Chenxiaozhai village in the afternoon.
As one of the largest primary schools in Lyuzhai, the school has more than 400 students, of whom most are left-behind children with parents migrating to cities for work.
The company donated sports products and books to the school and gave each of the 20 children who were on summer vacation and returned to the school for the visit presents, including stationery, toys and table lamps.
On Saturday morning, the VIA employees visited 10 of the most desperate households in Guhe village and brought them daily life necessities including electric fans and food.
With a population of nearly 6,000, Guhe is one of the poorest villages in the province. Though the situation has improved significantly in the last years, dozens of the households are still living in desperate conditions.
Bu Xin, executive from the German firm, said, "We learned about the villages from China Daily and there would be more visits in the future, as we are considering providing more help to the villagers."
China Daily sent six reporters to villages nationwide to live for a month, starting from the end of April, and take a look at how people are working under China's poverty eradication plan.