Chinese synchronized swimmers claim history-making gold at FINA worlds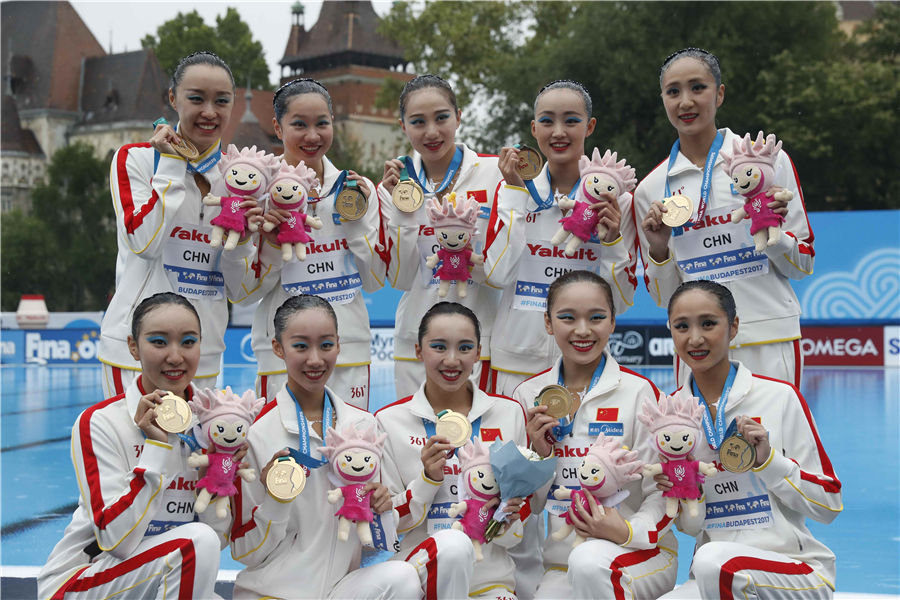 Members of Team China pose with their gold medals after the women's free combination awarding ceremony of the 17th FINA World Aquatics Championships in Budapest, Hungary, July 22, 2017. [Photo/Agencies]
BUDAPEST - China won their first ever gold medal in synchronized swimming at the FINA World Championships as they took away the team free combination champion on Saturday.
Synchronized swimming powerhouse Russia were absent from the matchup in the Hungarian capital. Under the theme of Master and commander as a manifestation for bravity against challenges, the Chinese team snatched 96.1000 points to write a new chapter in the sport.
Ukraine ranked second with 94.0000 points. The bronze medal went to Japan, who finished with a score of 93.2000.
After the National Games in May, the athletes from seven provinces and municipalities were recruited into the national team and took the training for two months before they achieved the history-making feat.
"I'm quite happy about the gold medal, because it's not easy for us to do it," said Tang Mengni.
"The time for our preparation is a little short after the National Games," she added. Finishing atop the ranking in the preliminary, the Chinese team just kept a cool mind before the final en route to their memorable achievement. "We slept quite well before the final. We have our own goals, but we don't want to give ourselves much pressure for realizing our goals. We just want to be our best selves," commented Tang.
"They finished the whole program very well, and I'm satisfied with what they did today," China coach Wang Jie said.
"In recent years, the Chinese synchronized swimming has been among the world's top level."
"We feel that we lag behind Russia from the ranking at the worlds this time, and they still have much competitiveness," she added.
China won a total of five synchronized swimming medals so far in Budapest, three in team events and two in duet events.