China claims three platform titles at FINA Diving World Series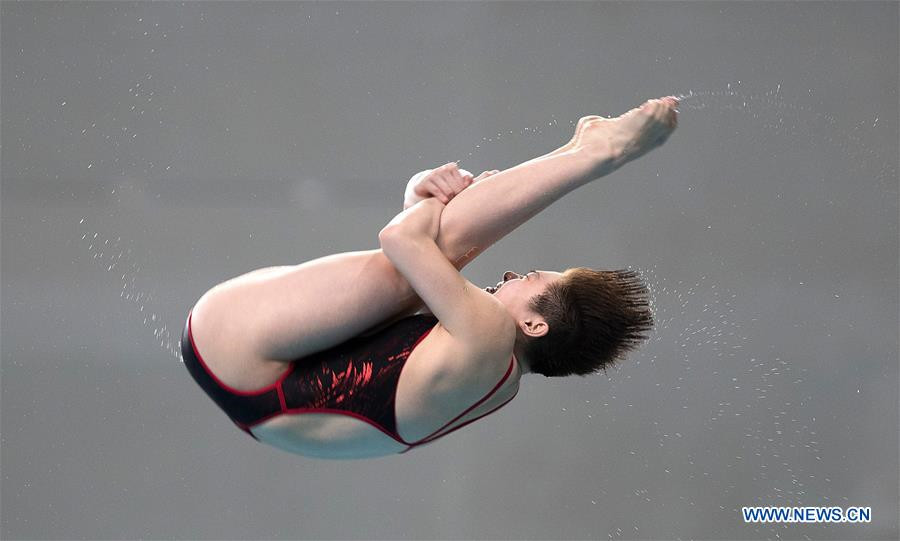 Si Yajie of China competes during the women's 10m platform final of the FINA Diving World Series 2017 in Beijing, March 5, 2017. Si Yajie claimed the title of the event with a total of 406.60 points. [Photo/Xinhua]
BEIJING - Chinese divers clinched three golds and two silvers at the FINA/NVC Diving World Series 2017 at the National Aquatics Center, the "Water Cube" on Sunday.
Chinese diver Si Yajie secured women's 10m platform title with 406.60 points, edging her world champion teammate Ren Qian by 7.85 points. Kim Mi Rae of DPR Korea took the bronze in 360.25.
Si, who always won silver medals in recent years, finally made a breakthrough tonight. "I am so glad I performed stably tonight and won this title, the 'always second place' thing has bothered me for a while and I finally shrug if off. I will keep on training hard in the future."
In men's 10m platform, Rio Olympic titlist Chen Aisen grabbed gold with 556.25, while Lin Hao scored 554.70, only 1.55 points behind for the silver. British diver Thomas Daley clinched third with 520.35.
"All the competitors are brilliant tonight, the mistake I made on my fifth dive cost my efforts before, my next target is the title of Olympic Games," said Lin Hao.
"This is the first time I take part in individual event since Olympics, Chen and Lin from China are both very, very talented divers, so it is always my goal to beat them," said Daley.
"When I was in 2008 Beijing Olympic Games, I was 'baby' Daley, now I am a grown-up Daley. I will take care of my body and train smarter. My goal is to get to 2020," Daley added.
Lian Jie/Lian Junjie of China won mixed 10m synchro platform title with 329.28 points, Iuliia Timoshinina/Viktor Minibaev of Russia and Meaghan Benfeito/Vincent Riendeav of Canada had the silver and bronze medals respectively.
China claimed nine out of ten titles and Britain won a valuable men's 3m springboard gold in the three-day competitions. FINA Diving World Series will next go to Guangzhou in March 9-11.