Chinese diver Xie takes gold at FINA Worlds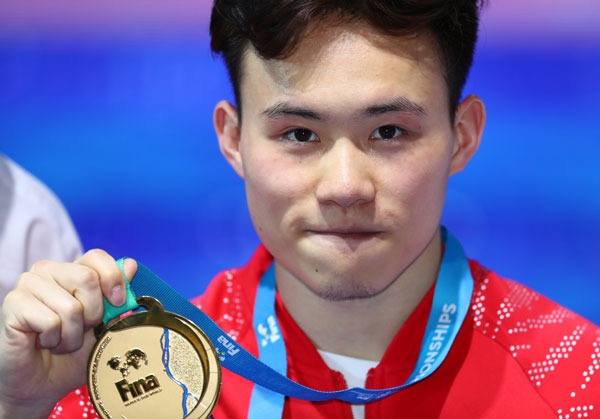 Chinese diver Xie Siyi poses after winning the men's 3m springboard at the 17th FINA World Championships in Budapest, Hungary, on July 20, 2017. [Photo/Xinhua]
BUDAPEST - Chinese diver Xie Siyi came from behind to clinch the title in the men's 3m springboard at the 17th FINA World Championships in Budapest on Thursday, adding a sixth gold to the diving powerhouse's collection.
Xie, 21, finished fourth in the semifinals on Wednesday and ranked behind his teammate Cao Yuan after the first three rounds in Thursday's final. However, Olympic champion Cao failed to nail his fourth dive and Xie took the chance to lead the squad of 12 until the end.
"I was too excited to express my feelings," said Xie, who took the gold with a result of 547.10 points. "My diving career was never smooth. I had to deal with injuries and setbacks. I'm happy that I can keep fighting."
German veteran Patrick Hausding bagged the silver medal with 526.90 points and Ilia Zakharov from Russia finished third on 505.90 points. The other Chinese diver, Cao, was only 10th in 453.70 points.
"I was overly confident about my fourth dive and I did it awkwardly," said Cao. "After that, I felt frustrated and lost my usual form."
On Saturday, Cao and Xie missed the gold in the men's synchronized 3m springboard as they were overtaken by experienced Russian duo Ilia Zakhrov/Eugenia Kuznetsov in the final round.
"I did feel extra burden on my shoulder during the individual event," said Xie, "but I could not allow myself to think about the result too much. I had to keep calm. Otherwise, I could have messed it up."
In the duet free final of synchronized swimming, Russia's Alexandra Patskevich and Svetlana Kolesnichenko were unparalleled as they claimed the gold medal with 97.0000 points. Kolesnichenko finished her journey in Budapest with 2 solo golds and 2 duet golds.
Coming back from retirement after each getting married and giving birth, China's 30-year-old twin sisters Jiang Wenwen and Jiang Tingting finished second with a score of 95.3000 points. Anna Voloshyna and Yelyzaveta Yakhno of Ukraine ranked third at 93.2667.
In other results, France won the open water mixed 5km team relay race with a time of 54:05.90. The United States claimed the silver medal with 54:18.10 and Italy earned the bronze medal in 54:31.00.