Chinese duo fall short in mixed diving team event at the worlds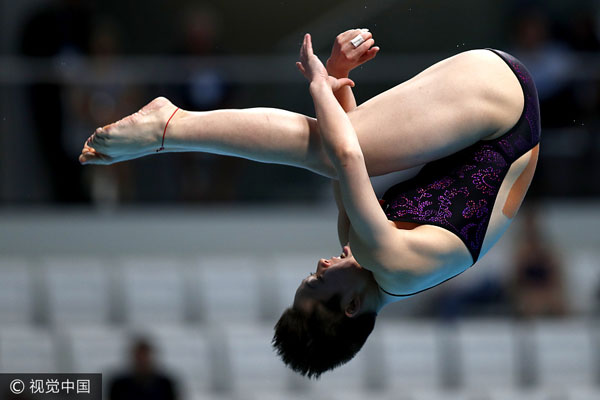 Chinese diver Chen Yiwen competes in mixed 3m and 10m Team Event at the 17th FINA World Championships in Budapest,Hungary, on July 18, 2017. [Photo/VCG]
BUDAPEST - A huge error stopped Chinese divers Qiu Bo and Chen Yiwen's quest for the gold medal as they finished sixth in mixed 3m and 10m Team Event at the 17th FINA World Championships in Budapest, Hungary, on Tuesday.
Chen, who ranked fourth in women's 1m Springboard three days ago in Budapest, only snatched 32.55 points for her 107B move in the second dive.
It was the lowest score of the third round among 19 divers. Chen and Qiu were subject to the sixth position with 355.15 points after a total of six rounds.
"After falling short in the 1m event, I give too much pressure to myself," admitted Chen.
"I have never suffered such a turnover in the training before, but unfortunately the first has arrived in the match.
"It's my first World Championships, and I am too nervous to think about the skill and rhythm," she added.
The Chinese diving team, known as the "dream team", also failed to claim the title of the event two years ago in Kazan.
"The experience means more to me than just the medal. The most important thing was to finish the move in my style, but that didn't happen today, which I didn't expect before the match," Chen pointed out.
French duo of Matthieu Rosset and Laura Marino took away the gold with 406.40 points. Rommel Pacheco Marrufo and Viviana Del Angel Peniche of Mexico finished runners-up at 402.35, while Krysta Palmer and David Dinsmore of the United States ranked third at 395.90.
Earlier on Tuesday, the Chinese synchronized swimming team tied their best result at the worlds with a silver medal in women's Team Technical.
The gold went to Russia. Japan also finished on the podium.
"We feel much better than in the preliminary today, and become more and more stable in our performance with the event going on," commented Guo Li.
Olympic champion Ferry Weertman continued his winning manner in the men's 10km Open Water Swimming, as the Dutch clocked 1 hour 51 minutes and 58.50 seconds for the world champion.
Jordan Wilimovsky and Marc-Antoine Olivier finished second and third respectively.