Panda keeper bears all for his 'friends'
Zhang Xusheng will retire from Hangzhou Zoo after 38 years as a panda keeper at the end of this month.
To mark the occasion, he had a special celebration for two giant pandas in his care on July 14 when he celebrated their birthdays with dozens of primary school students and visitors from the city, which is the capital of Zhejiang province.
"I can't imagine my retirement without those pandas. I have to get use to it," he said, forlornly.
Zhang, 60, has worked for Hangzhou Zoo since 1975. That year, giant pandas Ying Ying and Pei Pei came to the zoo and became major attractions.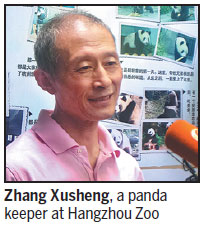 Zhang started to nurse giant pandas in 1979 and has done it ever since, being a constant companion to all nine pandas spanning five generations in the city's biggest zoo.
Cheng Jiu (Achievement) and Shuang Hao (Double Good) came to the zoo last year and are the current occupiers of the Giant Panda House.
They enjoyed the delicious ice birthday cake prepared by Zhang and the zoo for their third birthday. Zhang stood outside the bars and looked at them with pride and satisfaction.
"Giant pandas, in fact, are not meek animals, they sometimes will attack people, especially strangers. But they recognize me. I can get close to them and we are friends," Zhang said.
"I can even recall when the pandas started to consider me as a friend."
Pei Pei, 33, one of the first giant pandas in the zoo, died in 2004. Her ripe old age was equivalent to 100 years for a human. She held the record as the oldest panda.
"I was with her for nearly 30 years. Her death almost crushed me," Zhang said.
In 1985, giant pandas, which have to eat about half their body weight daily, faced a severe food shortage due to widespread bamboo blooming.
This resulted in the animals spurning their staple diet.
Zhang searched everywhere in the city for edible bamboo. He even chopped down wild bamboo and visited the city's botanical garden searching for food.
This led the garden's administrative staff coming to the zoo to complain.
"I almost cut all the edible bamboo there," he said with a laugh.
For the past 38 years, Zhang has stuck to a rigid routine.
At 8 am, he goes to the Giant Panda House and observes the pandas' movements for a while. Then he leads them to the outside garden for morning exercises and cleans their room.
Pandas have breakfast around 9:50 am and take a nap at 11 am.
He wakes them up around 1.30 pm for lunch before an afternoon nap. At 5 pm he cleans the room again.
"I will definitely come back to see Cheng Jiu and Shuang Hao frequently. I will miss them," he said.
But he is sure they will be in good hands.
"I have mentored four postgraduate students and I believe they will do a great job and take care of them," Zhang added.