High-speed train to reach Shanghai from Beijing in 4 hours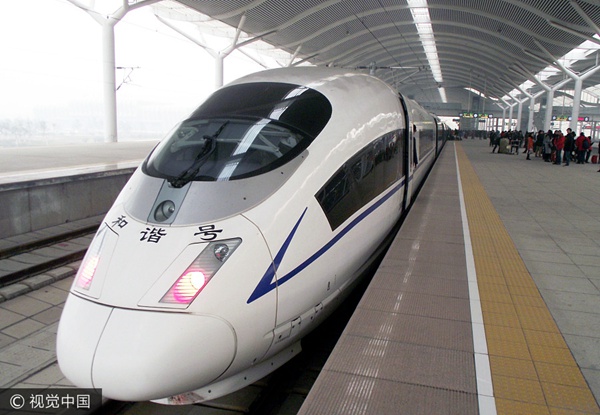 A "Hexie" bullet train stops at the Xuzhou station in Jiangsu province, Jan 3, 2014. [Photo/VCG]
Trains on the Beijing-Shanghai high-speed railway will be traveling at up to 350 kilometers per hour around this year's National Day, Beijing-based Caixin online reported.
The speeds of "Hexie" and "Fuxing" class bullet trains will both improve, and the time required for the G1 train to run between Beijing and Shanghai will be shortened by 49 minutes to 4 hours.
China Railway is currently preparing for the speed increases with multiple departments.
A China Railway Signal & Communication Corp member noted that staffers are testing tracks, train vehicles and signals.
China's high-speed rail system began to slow down from July 1, 2011. All the high-speed trains that could reach a top speed of 350 km/h were slowed to 300 km/h except for the ones running between Beijing and Tianjin.
He Huawu, chief engineer of the China Railway Signal & Communication Corp, noted that the decision to limit the top speed to 300 km/h was mainly based on operating and maintenance costs, which increase with higher speeds.
But there are always voices calling for more speed.
After the limit of the Beijing-Shanghai high-speed railway is boosted to 350 km/h, the Xuzhou to Xi'an section of the Lianyungang-Lanzhou passenger line, the Beijing to Wuhan section of the Beijing-Guangzhou high-speed railway, and the Shanghai-Hangzhou section of the Shanghai-Kunming passenger line will also increase train speed to that level.
The Beijing-Shanghai high-speed railway is 1,318-kilometre long and connects two major economic zones in China, the Bohai Economic Rim and the Yangtze River Delta. Construction began on April 18, 2008, and the line opened to the public for commercial service on June 30, 2011. The rail line is the world's longest high-speed line ever constructed in a single phase.