Highspeed rail line scrapped as cost spirals

Updated: 2008-03-28 07:28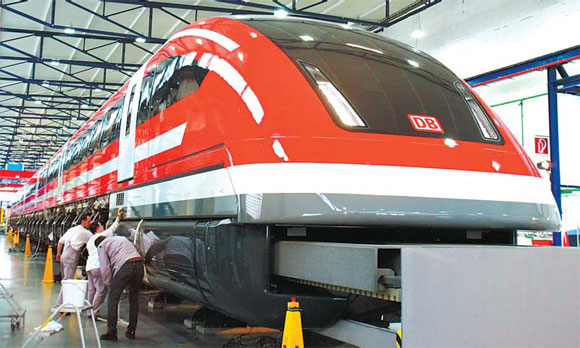 Workers polish a prototype of the new maglev Transrapid high-speed train at the ThyssenKrupp plant in the central German city of Kassel in March, 2007. Reuters
Germany has ditched plans to build a flagship high-speed rail link between the Bavarian capital Munich and its airport because of ballooning costs, Transport Minister Wolfgang Tiefensee said yesterday.
The Transrapid, one of the world's fastest trains, was developed by German engineers at Siemens AG and ThyssenKrupp AG and so far the technology has only been used commercially in China.
Tiefensee told a news conference that industry estimated the cost of building the link would reach 3.2 billion to ($5.76 billion) 3.4 billion euros compared to the 1.85 billion euros orginally earmarked for it.
"The Munich magnetic levitation rail project has collapsed," Tiefensee told reporters.
The federal government had originally pledged to assume up to 925 million euros in costs and the state of Bavaria around 500 million.
Construction company Hochtief had been leading the consortium. National rail operator Deutsche Bahn AG, Munich airport and the European Union were also involved, as well as Munich-based Siemens and ThyssenKrupp.
The project was announced last year by then Bavarian premier Edmund Stoiber just days before he stood down as head of the southern state's conservative party.
Critics said it was a pet project of his which he wanted as a personal legacy despite fierce criticism from local residents and the Munich mayor. The costs had soared mainly due to the costs of the track, said industry sources.
Bavaria's plans for the Transrapid, which set a speed record of 450 kph in 1993, had offered hope for the technology which has enjoyed little commercial success.
Despite a string of proposals for its use across the world, the only train of its kind in commercial use is a shuttle from the center of the Chinese city of Shanghai to its airport.
Traveling at three times the speed of normal steel-wheel trains, the "mag-lev" Transrapid floats on a magnetic cushion one centimeter above the track. It has no fuel source on board and its makers say it cannot derail.
Industry groups in Germany, Europe's biggest economy and the world's biggest exporter, bemoaned the decision.
Another plan to build a Transrapid link between Hamburg and Berlin has already been scrapped.
A Transrapid train crashed on a test run in northern Germany in 2006, killing 23 people, an accident in which investigators said human error was to blame.
Siemens Chief Executive Peter Loescher said the company was in talks with several other possible global partners who might be interested in the Transrapid project.
Agencies
(China Daily 03/28/2008 page12)