Accused serial killer stands trial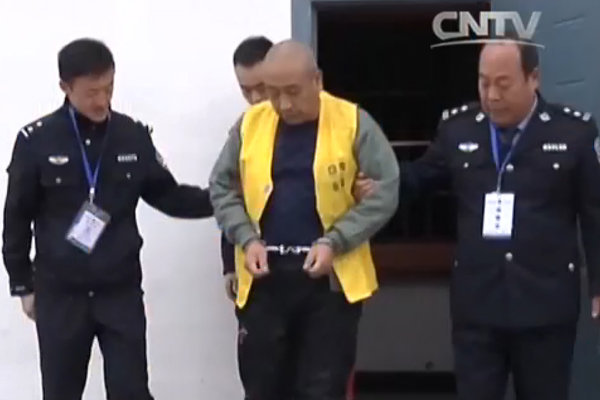 A screen grab shows Gao Chengyong as he is escorted to court in Baiyin, Gansu province.
Hearing closed over 'cruel' way female victims died, official says
The trial of suspected serial killer Gao Chengyong got underway on Tuesday behind closed doors in Gansu province.
Baiyin Intermediate People's Court had not issued a statement on the case as of 6 pm, and it was unknown whether Gao, 52, has pleaded guilty to any of the charges he faces, including murder, rape, robbery and mutilation of a corpse.
Prosecutors said before the trial that the defendant had confessed to a number of crimes, including killing 10 women and an 8-year-old girl in Gansu and the Inner Mongolia autonomous region between May 1988 and February 2002.
Although the case was not open to the public, the court announced the prosecution on May 2 and disclosed the time and place of the hearing via Sina Weibo.
On Monday, it also held a news conference in Baiyin to respond to several much-discussed issues, such as why the hearing has come almost a year after the suspect was arrested.
"The case is complicated, as the killings took place from the 1980s to the 2000s, and the defendant is accused of multiple offenses ... which is why we have not heard about it until now," judicial official Teng Wenxiang said.
Under Chinese law governing case procedures, a basic principle for a hearing is transparency, except for cases relating to State secrets and privacy, he said.
"This case involves several female victims, and the way they were killed was cruel. Considering these factors, we decided not to hear it publicly," he said.
Teng estimated the hearing would last two and a half days because of its complexity and high profile, but said the timing would depend on whether Gao pleaded guilty.
"The judgment is expected at a later date," he added.
Under Chinese law, people who commit homicide, robbery and rape face a possible death sentence.
The cellphone of Zhu Aimin, Gao's lawyer, was powered off on Tuesday.
The case was thrust into the public eye last year when Baiyin police discovered evidence, including DNA, that identified Gao as a suspect in the killings. In preliminary interrogations, police said Gao confessed but gave no motive.
Details released by the police said the victims were all young women dressed in red, and Gao raped them and killed them by cutting their throats after following them home.
caoyin@chinadaily.com.cn