Friends and allies in war and peace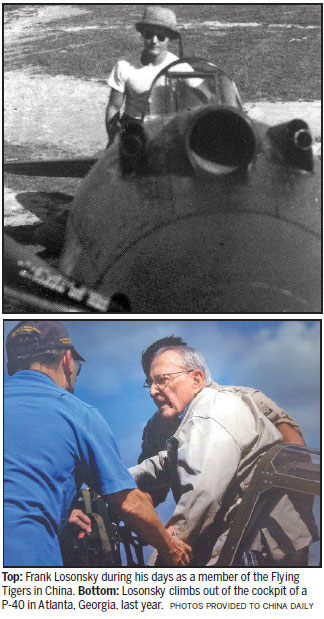 Friends in life and death
While visiting his son in Los Angeles in 2000, Zhou Bing, a retired official at the Civil Aviation Administration of China, saw an old friend on television. Staring back at him from the television set was Dick Rossi, Zhou's copilot during WWII. The two men had not seen each other for more than half a century.
Rossi, from California, was enrolled in the electrical engineering program at UC Berkeley at the outbreak of WWII. In his memoirs, he wrote that though he saw the flight-training notices plastered all across campus. "I never really dreamed I would be able to make it," he wrote.
Rossi signed up for the AVG in 1941, and arrived in China as a pilot. On Dec 20, the AVG had its first air battle in China, shooting down nine Japanese bombers that attacked Kunming, the capital of the southwestern province of Yunnan.
In just seven months, the AVG shot down 299 planes during more than 50 battles against the Japanese, forcefully defending critical air space on China's rear front.
Rossi achieved ace pilot status with 6.25 confirmed victories during his service with the AVG. After the AVG was disbanded in early July 1942, Rossi continued to defend China as a pilot with the China National Aviation Corp. That was where he met Zhou.
In 1944, after graduating from National Southwestern Associated University in Kunming, Zhou entered CNAC. He was tasked with transporting supplies between India and China on a dangerous, but vital, airlift route over the Himalayas, known as the "Hump".
The Himalayan route was the Allies' primary means of delivering supplies to China after Burma fell to the Japanese. The Burma Road, which connected Lashio in northern Burma to Kunming, was cut off in 1942 by the invasion.
The legendary air route was opened through joint endeavors by Chinese and US pilots.
Due to the extreme altitudes, unforgiving topography and bad weather, Zhou's route over the Himalayas was a perilous one. Hundreds of planes crashed along the route: more than 1,500 Chinese and US pilots died or were reported missing attempting to bridge the gap between the Allies and the Chinese.
Between 1942 and 1945, Rossi successfully flew 735 trips over the Hump - an unparalleled record.
After Zhou saw Rossi on television, his son promptly contacted the Rossi family. Zhou was amazed to learn that Rossi and his family still lived in Southern California. The two long-lost friends quickly arranged a meeting.
Zhou's son, Zhou Jisong, was delighted to have an opportunity to learn more about his father's past. "My father always kept a low profile about his WWII service," he said. "I never heard much about it. Not until that meeting.
"I learned that my father was studying in Kunming at the time," he said. "He was a hot-blooded young man, and the Japanese bombing of Kunming made him feel he needed to contribute to China's resistance. He didn't want to see China become a conquered nation."
In 2005, Rossi was invited to Beijing to celebrate the 60th anniversary of the end of WWII. He was seated at the top table with the then-president Hu Jintao. Hu shook Rossi's hand and in an emotional tribute to the aid the US provided during WWII said he hoped the friendship between the peoples of China and the US would last forever.
"The Chinese leaders came around to toast him," said Lydia, Rossi's wife and executive secretary of the Flying Tigers Association. "The Chinese people have never forgotten us. We were incredibly touched by their gratitude every time we visited China.
"After reconnecting with Rossi, he (Rossi) and my father met with each other almost every year," Zhou Jisong said.
Zhou Bing and Dick Rossi died in 2007 and 2008 respectively, but their stories endure as reminders of the close historical partnership between China and the US.