Tourist in coma lacked insurance
Chinese patient in Indonesia shows need for coverage, industry insider says
Chongqing resident Yang Ting, 33, has been in coma with a fever for eight days in an Indonesian hospital's intensive care unit after falling ill on July 5 in Bali.
Yang's story has attracted a lot of attention among friends, colleagues and local media. As more Chinese travel overseas, her condition serves as a warning about being uninsured.
The hospital told the family that Yang's brain had been infected by "some unknown virus", and the doctor has been trying to identify it before taking further measures.
Yang's health has been deteriorating quickly - she contracted a severe lung infection - so the hospital suggested the family transfer her to nearby Singapore or to Chongqing for better medical treatment.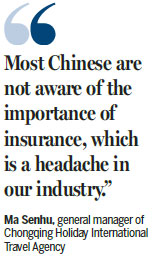 But an international charter flight will cost about 800,000 yuan ($117,860), a huge challenge for Yang's family.
Yang, who works as a bus driver in Chongqing, joined a group tour to Bali with a friend on July 4. She came down with a fever the next day and became unconscious. The tour guide and the friend sent her to the hospital by ambulance.
Yang's mother, Xiao Shuqin, and Yang's cousin rushed to Bali.
"She has been very healthy with no major illnesses," Xiao said. "We can hardly afford the chartered flight, or even the hospital cost here."
Yang's colleagues and friends have donated money. Xiao has asked her sister in Chongqing to sell Yang's new apartment as soon as possible.
Thanks to the donations, the family is able to bring Yang home by the chartered flight. "We hope to bring her back on Friday," Xiao said.
"She is a good person with a kind heart," fellow bus driver Liu Tian said.
In January, a passenger had a seizure and fell unconscious on Yang's bus. Yang immediately drove to the nearest hospital and accompanied the passenger until he awoke.
As required by China's tourism authorities, Yang's travel agency must buy accident insurance for every traveler. But whether she is covered or not is still a question, since the cause of her illness is unknown, said Ma Senhu, general manager of Chongqing Holiday International Travel Agency, which runs many overseas package tours.
"The ordinary travel accident insurance purchased by travel agencies can cover up to 300,000 yuan if a tourist dies in an accident during travel, but it does not cover underlying diseases," he said.
He said Chinese travelers should buy travel insurance that includes overseas medical treatment and rescue before going abroad.
"It's not expensive at all, only about 100 yuan," Ma said. "But most Chinese are not aware of the importance of insurance, which is a headache in our industry."