London camp helps shy boy gain confidence
When my 11-year old family friend Quan recently visited London for his 15-day summer school camp, I offered to take him out for a meal and show him a little more of the city's attractions.
Having seen Quan grow up as a shy kid over the years, I could only imagine how scared he would be, away from home for the first time, in a foreign country too. I had imagined that he would be crying with homesickness, but I was wrong.
When we met at Tower Bridge, I was pleasantly surprised by the mature and confident young man standing in front of me. He greeted me with a big smile, reassured his friends that he would be back with the group at the appointed hour before leading me away from the tourist crowd.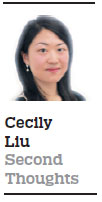 "How did you get here this morning?" I asked him. "Oh the journey wasn't bad at all," he answered in a matter-of-fact way, before providing a full explanation of how and where he and his friends took a bus, train and underground to arrive in Central London from the southeast commuter town of Welling, where his homestay family lived.
Quan's mastery over London transport took me by surprise. In Beijing, he hardly traveled on public transport alone, as his mom and dad gave him rides to school and weekend activities most of the time.
But living in Welling was a different matter. Of the three boys who stayed with their host family, Quan was the youngest but also the best English speaker. Thus he took it as his responsibility to not only translate between their homestay mom and the other kids, but also to take care of his friends' daily needs, including food, laundry and transport.
"The boy who slept in the bed above me was constantly homesick and cries a lot, so I spend a lot of time comforting him," he told me.
Quan was not homesick. He felt liberated by his newfound freedom in London, but he joked that one thing he will not miss is the "terrible" food: daily sandwiches at school, and fish and chips or pasta with tomato sauce cooked by his homestay mom.
"I hated the food, but I ate them all, as I didn't want to starve myself," Quan laughed heartedly.
Quan's experiences are representative of the thousands of Chinese children who travel overseas each summer for study abroad programs. Their classroom studies are important, but surely the more important lessons come from the school of life, as they discover aspects of themselves in a foreign land, away from home.
They will treasure the friendships, memorable experiences and independence that they gain from those trips for many years to come. The interaction between children like Quan, their teachers and host families will also help to cement understanding between China and many countries around the world.