Rush begins for TCM plasters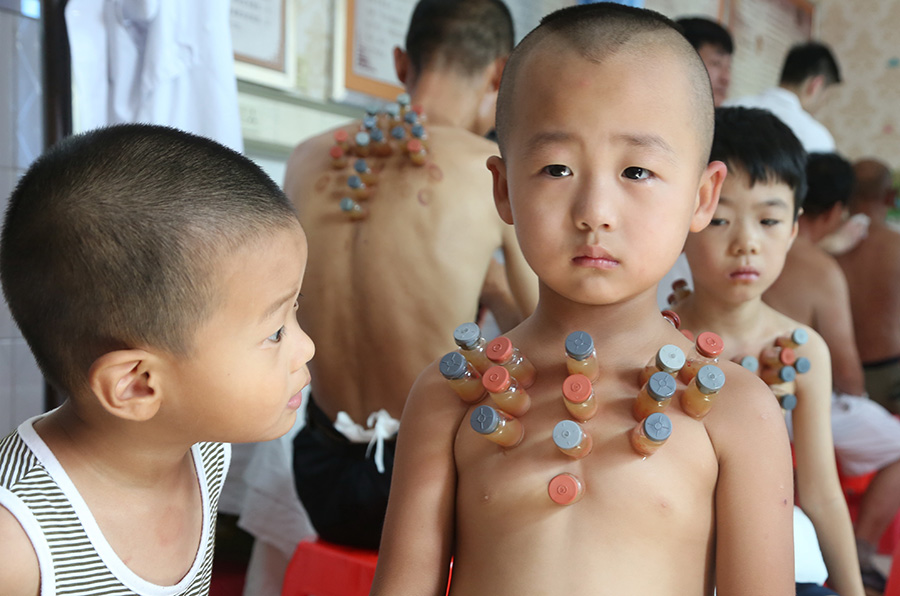 Children receive cupping treatment for asthma at a hospital in Beijing's Huairou district on Wednesday, the first day of the hottest period of the year, according to the lunar calendar. During this period, people flock to traditional Chinese medicine hospitals because it is believed that winter illnesses can be warded off in summer by TCM procedures such as acupuncture, cupping and scraping. PU XIANGDONG/ FOR CHINA DAILY
People are lining up at hospitals across China to receive sanfutie plasters, a traditional Chinese remedy used during the dog days of summer, which began on Wednesday.
Sanfutie can help with conditions such as diarrhea and rheumatic arthritis, according to Zhang Shunan, head of TCM at the China-Japan Friendship Hospital in Beijing. The remedy was first recorded in Zhangshi Yitong, a book published in 1695.
The hottest part of summer, from July 12 to Aug 20, is known in China as Sanfu Days.