'Great inventions of the modern age' grip expats in China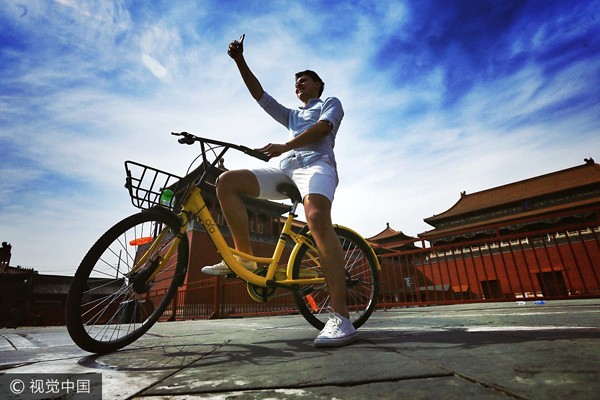 A tourist tries out one of Bike-sharing company Ofo's new fleet of cycles in Beijing on May 8, 2017. [Photo/VCG]
2. Bike-sharing
While bike-sharing is not rare in other parts of the world, the Chinese version has given a whole new meaning to the concept, with customers able to pick a bike anywhere in the city, thanks to GPS-enabled apps, and leave it anywhere at the end of their journey.
The concept is all the rage among students and young professionals across the nation for being convenient, green and cheap.
Now Chinese bike-sharing startups plan to expand their innovations into foreign markets.
Mobike, which is backed by Chinese internet giant Tencent Holdings Ltd, already operates its dock-free bike-sharing service across dozens of cities in China and in Singapore.
Last week, 1,000 of the company's distinctive orange bikes became available in Manchester in Mobike's first foray in Europe.
Shared bikes have become the newest battlefield for global capital, with large amounts of investment flowing into the billing-on-time bike-rental mobile applications.